Software Description
The following is a description of MAGIX PC Check & Tuning 2011, as per the developer:
PC Check
The PC Check analyzes weaknesses and problems in the system and lists them. Short problem descriptions may be accessed directly to keep an overview and to see where problems are present. Click the solution recommendation to quickly and conveniently correct them.

Increase performance
Optimize your PC's startup time, performance, and stability to work faster and to keep your PC from crashing. MAGIX PC Check & Tuning 2011 enables the system start to be customized, drives to be defragmented, drivers to be updated, and much more.

Free up drive space
Remove unnecessary garbage. You can not only empty the recycling bin, but also delete cookies or Internet history that have secretly been saved by your Internet browser, uninstall programs that are no longer needed, and much more.

Secure data
Back up your data to your hard drives to protect against unpleasant loss of data. Besides simple file backups, you can also create partition backups to copy entire sections of the hard drive (partitions). If files have been deleted that you still need, then these may be restored via the file rescuing function. These and other useful functions are available to you in "Back up data".

Windows appearance
Adjust the appearance of your Windows operating system according to your wishes: select how your start menu should look like, which animations and effects may be used, how fonts are to be displayed, etc.

Info – My PC
This area is accessible via the task manager (familiar from Windows) with advanced functions for more influence and a better overview of facts about your PC and its activities.

Save power
Whether to save money or if you would like to work on a computer as long as possible using the battery, you can choose from the power saving schemes or make changes yourself. To do so, go to the "Power saving" area.
dotTech Advice
Last year, around this same time in fact, MAGIX PC Check & Tuning 2010 was given away for free. The conclusion I came up with on MAGIX PC Check & Tuning 2010 was it has a lot of features with some interesting aspects but also some sub-par aspects. Eventually I came up with one sentence to sum-up how I felt about MAGIX PC Check & Tuning 2010:
If I were doing a full review on MAGIX PC Check & Tuning 2010 it would probably get an "ordinary" rating.
I couldn't find an official change log but I gave MAGIX PC Check & Tuning 2011 a quick look. I am sure there are many under-the-hood changes and it has some new features, but MAGIX PC Check & Tuning 2011 appears to be largely the same as MAGIX PC Check & Tuning 2010 — that includes the pros and cons I mentioned in the freebie article last year. So read the advice I wrote previously (shown below) if you want to get a glimpse inside MAGIX PC Check & Tuning 2011 to decide if you should download it or not:
MAGIX PC Check & Tuning 2010 is an interesting program. It is another jack-of-all-trades-master-of-none that focuses specifically on system cleaning/tuning/health/maintenance, data security, and system tweaks.

At first I was impressed by MAGIX PC Check & Tuning 2010 thinking "wow this has a lot of features". However, when I got to using it I noticed MAGIX was a bit sneaky when putting together PC Check & Tuning 2010. For example, the Defragment Drives option is nothing more than a shortcut to the defragmentation tool that comes with Windows; PCCT 2010 (PC Check & Tuning 2010) doesn't have a defragmentation tool of its own. (Good thing we have Auslogics.) Another example is how the registry cleaner and defragmentation tools are "powered by Eusing Software"… a politically correct way of saying they are Eusing Registry Cleaner and Eusing Registry Defrag repackaged, both which are freeware. (Eusing Registry Cleaner is very aggressive, by the way; it found 697 problems with my computer whereas CCleaner only found 103.) Then there are not-so-sneaky-but-still-sneaky things like  Password Protect which, at first glance (at least to me, anyway), seems to be a feature that allows you to password protect programs (i.e. an EXE password protector) but in reality it just password protects PCCT 2010; and the double-use of Configure services, placing it under Increase performance and Info – My PC artificially making it look like PCCT 2010 has more modules than it actually has.

Furthermore, some of the other modules are sub-par, such as the

There are some features that I found to be interesting, though, such as the

Configure system start module. While it isn't a very sophisticated startup manager – in fact it is fairly simplistic and no match for the likes of Autoruns – the interesting feature is the Optimize automatically feature where PCCT 2010 automatically enables/disables startup entries as it sees fits (something Soluto likes to do, too). Unfortunately Optimize automatically didn't really impress me; but it could be that I am a stickler at controlling startup programs/processes and always manually keep them clean. PCCT 2010 disabled five of my entries: TenClips, Digsby, Virtual CloneDrive, Roboform Pro, and WinPatrol. I can understand why PCCT 2010 would want to disable the first three; having this first three is a personal choice of mine and I am sure most people would prefer them to be off. However, why PCCT 2010 would disable Roboform Pro and WinPatrol is beyond me: Both are programs that should be started at Windows boot, especially WinPatrol. On the brightside, the Configure system start module has a Restore button that allows users to quickly undo any thing done via Optimize automatically, so no harm was done.
Configure services module, which allows users to end/start services can change them set them as "always active",  "if required", or "deactivated". Like Configure system start, Configure services has an Optimize automatically option which goes through your services and chances the startup status based on what PCCT 2010 thinks they should be set to. While I didn't particularly find anything "wrong" with what PCCT 2010 did, my problem is who should I trust more with the status of my services: Microsoft, the people who created Windows, or MAGIX, a company that primarily provides multimedia products but decided to venture into other areas? That is not to say Microsoft is always right and MAGIX is a terrible developer; but rather there is the idea of core competency and I will take Microsoft's advice over how to manage my services than MAGIX's any day. (As far as I can tell, PCCT 2010 primarily only changes Microsoft services.) If you do decide to give Optimize automatically a whirl, there is a Restore button to allow you to easily undo what just happened.
File assignment module which allows users to easily control what programs are associated with what file types. While Windows 7 users can easily do this by using native Windows 7 features, and Vista users can fairly easily change file associations also, this module can be handy for people that use older windows like, um I don't know, Windows XP.
Context menu "New" module which allows users to easily add/remove file types from the right-click context menu's "New" menu.
PC Check Live module. I am not really sure what this does – MAGIX isn't very description and I didn't turn it on myself – but it seems to be a feature that activately monitors your computer and, uh, keeps it maintained? I don't know, honestly.

To sum up this semi-long rant: If I were doing a full review on MAGIX PC Check & Tuning 2010 it would probably get an "ordinary" rating. If I were in the market for a system utility I definitely won't spend $39.95 on when the likes of TuneUp Utilities can be had for $49.95. However, while MAGIX PC Check & Tuning 2010 is available for free, we can't complain much, now can we? Oh wait, yes I can.
Freebie Details
MAGIX PC Check & Tuning 2011 is being given away in a promotion by MAGIX AG themselves. There is no information on how long the promotion will last (the promotion of 2010 still appears to be live, so the promotion for 2011 may also last a long time); however, it appears you should be able to install/reinstall at any later date as you wish as long as you keep the installer and license code safe. Furthermore, there appears to be free updates included in this freebie offer but only minor updates, i.e. 6.x updates only.
To get MAGIX PC Check & Tuning 2011 for free follow these simple directions:
Version being given out for free: "2011" v6.0.405.1045

Free updates: It appears that 6.x updates are available for free but you need to pay for 2012 edition

Free technical support: Unknown

Supported OS: Windows XP/Vista/Win7

Download size: 3.5 MB for the download manager and 121.45 MB for the actual program
Visit the promotion page and either login with your MAGIX account (if you have one) or register a new account: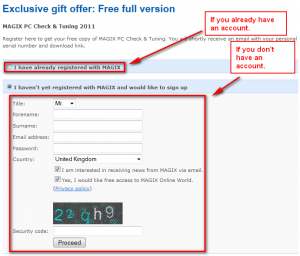 If you register a new account, once you hit the Proceed button you will be shown the following success message:

If you already have an account and you opt to login, you will be asked to confirm your details…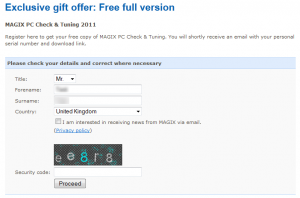 …then you will be shown a success message:

Check the inbox of the e-mail you registered/logged in with. Look for an e-mail from register@magix.net with the subject of Your free full version of MAGIX PC Check & Tuning 2011. In the e-mail you will find your serial number: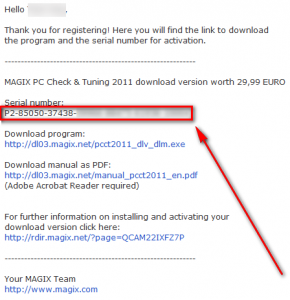 Copy the serial number because you will need it soon.
Download the download manager for MAGIX PC Check & Tuning 2011. (Don't worry — you don't need to install the download manager, it is just used to allow you to download MAGIX PC Check & Tuning 2011.) You will be asked to fill out a CAPTCHA before you are allowed to begin the download:

Once the download manager finishes downloading, run it. You will be asked to select your language and then MAGIX PC Check & Tuning 2011 will automatically begin downloading: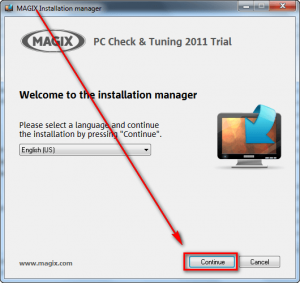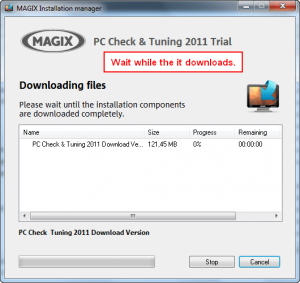 Wait while MAGIX PC Check & Tuning 2011 downloads.
After the download finishes the installation will be started automatically: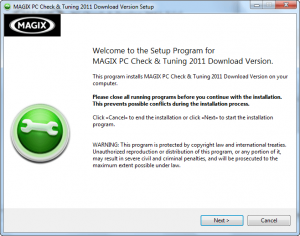 Install MAGIX PC Check & Tuning 2011 like any other program. Take note, however, MAGIX PC Check & Tuning 2011 comes bundled with MAGIX Ask Toolbar — be sure to opt-out of installing MAGIX Ask Toolbar if you don't want it (you probably don't want it):
Once you have installed MAGIX PC Check & Tuning 2011, run it.
When you run MAGIX PC Check & Tuning 2011 you will be asked to register it. Register it using the serial key you were given earlier and the e-mail address you logged in with or registered with at the promotion page: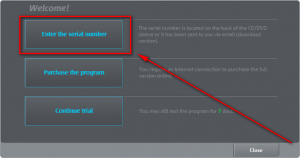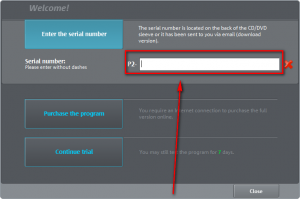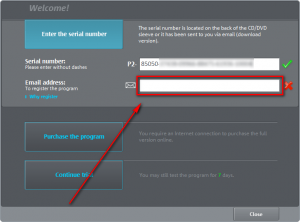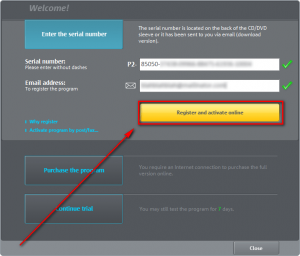 Once you hit the Register and activate online button a window will popup from where you must login to your MAGIX account (you can use the account you registered to logged into earlier) and fill out a form: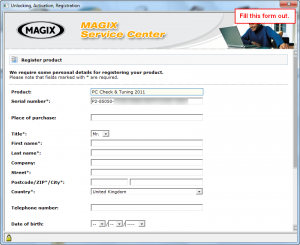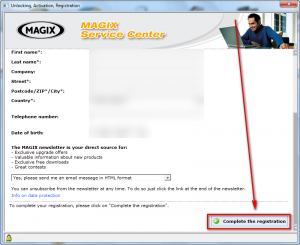 If you do it all properly you will be shown a success message: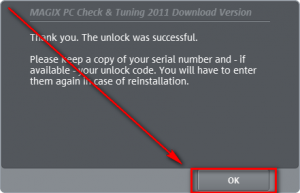 Once you see the above message, you are (finally) done. Enjoy!
If you have any trouble getting MAGIX PC Check & Tuning 2011 for free, post below and other dotTechies or I will try to help.
[Thanks @mazingAG!]
Related Posts