Software Description
The following is a description of O&O AutoBackup, as per the developer:
O&O AutoBackup automatically synchronizes selected files and folders with an external backup device (USB Stick, external USB hard disk, FireWire volume). As an example, you can use O&O Auto backup to create a backup copy of your photo folder onto a USB stick and set it so that changes made to the original data are automatically taken into account for the next backup.

The copy process will start automatically whenever you connect your USB/Firewire disk to the computer. Using the status bar icon and the status window in the program, you can see when the process is complete and simply remove the external drive at the end.*

*In this instance, please be sure to select "Safely remove" as offered by the operating system.
dotTech Advice
O&O AutoBackup is not a backup program, as the name may lead you to believe. Rather, it is a file synchronization program. O&O AutoBackup allows users to sync files/folders from their hard drives to external media (USB/Firewire). Users select the files/folders they want to sync, select the external device to copy/sync to, and select the type of sync (copy all files, copy only modified and updated files but no deletion, or full sync [make all changes, including deletions]). (All types of syncs do 1:1 copies of files and folders — no encryption or password protection or the like.) Then whenever the selected external media is connected to your computer, O&O AutoBackup automatically detects it and performs the selected sync job; users also have the ability to manually execute the sync.
The problem with O&O AutoBackup is it doesn't work. As per my tests, O&O AutoBackup works when manually executing a sync but it doesn't properly do automatic syncs. Whenever I connect my external drive, O&O AutoBackup detects the drive and displays status messages like it is automatically executing the sync; however, nothing ever happens — no sync is executed. I realize this is only v1 of O&O AutoBackup but this is epic fail — the main feature of the program doesn't work properly.
Even if O&O AutoBackup worked properly, I still wouldn't like the program simply because it can support only one sync job at a time. If you want to do multiple sync jobs (e.g. sync separate folders to separate drives) then you are out of luck.
I'd skip out on this one if I were you — not even worth the time.
Freebie Details
O&O AutoBackup is being offered in a promotion by O&O Software themselves. There is no information on if this is a time limited promotion or not and there is no information on if you can install/reinstall at a later date or not.
To get O&O AutoBackup for free, do the following:
Version being given out for free: v1.o
Free updates and technical support: Unknown
Supported OS: Unknown
Download size: 6-8 MB
Visit the promotion page, enter your e-mail address, and hit Request free license: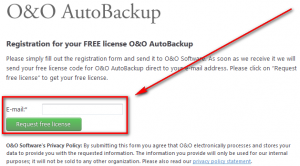 Check the inbox of the e-mail address you registered with. Look for an e-mail from O&O Software register@oo-software.com with subject of Your free license of O&O AutoBackup. In the e-mail you will find your registration details: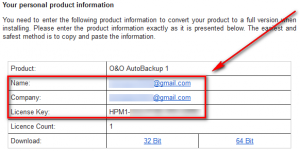 Download (32-bit version | 64-bit version) and install O&O AutoBackup.
After installation, run O&O AutoBackup and register it using the registration information you received via e-mail: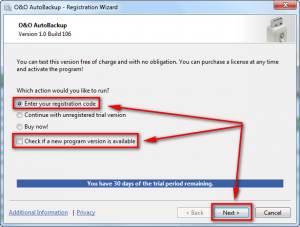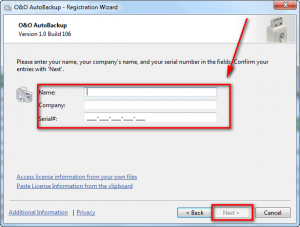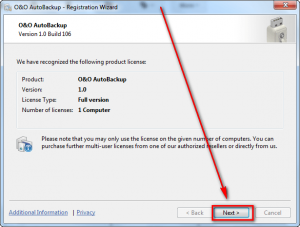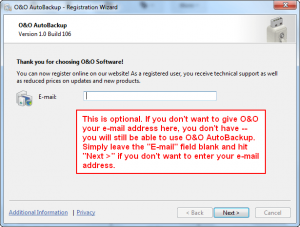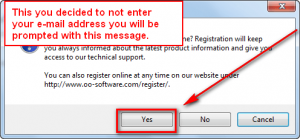 If you have trouble gettong O&O AutoBackup for free, post below and other dotTechies or I will try to help.
[Thanks PC basics!]
Related Posts