Most everyone has heard of RoboForm. If you have not, you are missing out. RoboForm is an excellent tool that saves your usernames, passwords, and other goodies (personal information) and allows…ugh I am just rambling. Lets hear it from the developer themselves what RoboForm is:
RoboForm allows you to:
Manage your passwords and Log In automatically.
Fill long registration and checkout forms with one click.
Encrypt your passwords to achieve complete security.
Generate random passwords to maximize password strength.
Fight Phishing by entering passwords only on matching web sites.
Defeat Keyloggers by not using the keyboard to type passwords.
Back up your passwords and copy them between computers.
Synchronize passwords between computers using GoodSync.
More propaganda for RoboForm:
RoboForm was named PC Magazine Editor's Choice, CNET's Software of the Year, and one of PC World's 25 Products We Can't Live Without.
RoboFrom has gotten 5/5 from a CNET reviewer, and 4.5/5 from user reviews.
Bottom line: RoboForm kicks ***. Most people already know that. Most people also know that there is a free version of RoboForm. However, that free version is limited, but still usable. Differences between Free and Pro are listed here.
So, interested yet? Ya, I was too when I heard about it =D. Okay, the bad news is that you need a credit card. The good news is that it is completely free and will take you literally 10 minutes. What we are going to do is use CheckoutFree.com (a company much like TrialPay.com) to enable use to get RoboForm Pro for free:
Click here to access the CheckoutFree.com RoboForm Pro offer: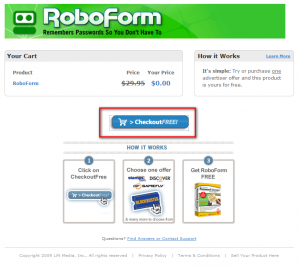 Click the "CheckoutFREE" blue button. You will then be prompted with this page:

Fill it out, be sure to enter a valid email address. Click "View Offers". You will be prompted with this page:

Pick any offer you want and sign up. Many are free, many are not. All of them require a valid credit card but you can cancel the offers that are trials before they charge you. I was gunna do NetFlix, but then I decided I would rather have 1 month free NetFlix* then the 2 weeks I would get via this offer, so I choose Stamps.com (4 weeks free trail + $5 free in stamps). Whatever offer you choose, be sure to use the same email address you entered earlier just to make sure nothing goes wrong. You have to fully complete an offer as described (most require you to sign up for something). After you are done signing up for an offer, check your email. You should have an email from "CheckoutFree.com <no-reply@checkoutfree.com>" with subject "Purchase Confirmation for RoboForm". The email will look like this:

Just follow on screen instructions from here on out and you will have RoboForm installed and activated within 5 minutes! I just did =)
Enjoy! =) Also note, you are not limited to just one CheckoutFree.com offer. If you see anymore, you can still do them. However, most vendors (the 'offers' you choose from) limit themselves to new customers, so you may have to choose a different offer next time you use a CheckoutFree.com deal.
*For 1 month free trial for NetFlix, use the promo code A80020935. New customers only. This promo code will not stack with CheackoutFree.com so be sure to sign up with NetFlix seperately by going to NetFlix.com. You must enter the promo code from the "Buy/Redeem Gift" link up top: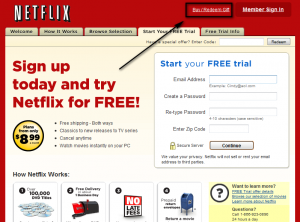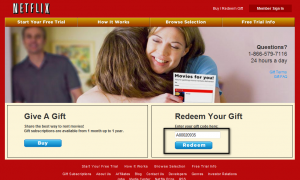 Related Posts