Software Description
The following is a description of AnVir Task Manager, as per the developer:
AnVir Task Manager gives full information about process, services, TCP/UPD connections, drivers, DLLs. It has descriptions for 70 000+ startup programs and services. It detects new and unknown Trojans using security analysis and alerts on new startups. It can speed up boot time (Delayed Startup), balance CPU usage, optimize memory. Tray icons shows status of disk, network, memory, CPU. Tray menu keeps last launched programs and folders. Also users can hide windows to system tray, set windows 'always on top', and change windows transparency.

Monitor your system and replace Windows Task Manager

Information about processes, startup programs, services, internet connections, drivers
Integrated database with Descriptions for 70 000+ startup programs, Internet Explorer toolbars and services
Icons in the tray that indicate CPU, disk, network, memory and battery

Get rid of viruses, Trojans and spyware that your antivirus missed

Security risk rating for each active process and startup program
Get notification when any program tries to add itself to startup

Enhance and tune up XP or Vista

Tweaker that gives access to hundreds of XP / Vista settings
Click on the title of any application to minimize window to system tray
List of recently used folders in Open / Save dialogs
Drive's free space as a colored horizontal bar in Windows 'My Computer'

Speed up your PC and Windows startup

"Delayed Startup" lets you set up any startup program to run few minutes later after Windows startup
Run startup programs minimized to system tray, or as a floating icon
Balance CPU usage
dotTech Advice
dotTech has reviewed AnVir Task Manager multiple times in the past and it was a dotTech freebie for over two-years (the dotTech freebie has now expired). While I can't support the developer's claim AnVir Task Manager is a very good solution at removing malware (spyware, trojans, viruses, etc.) in the traditional sense, it is a very good tool for managing your computer with a variety of features such as controlling startup programs, balancing CPU, etc. AnVir Task Manager is highly recommended. Read dotTech's review to learn more about AnVir Task Manager.
Freebie Details
AnVir Task Manager is being given away in a promotion by our friend Raymond over at Raymond.cc. This promotion is live until 7 days but as long as you save the license key and installer, you should be able to install/reinstall at later dates. Although this is a lifetime license, free updates are not available. Also take note this promotion is of AnVir Task Manager that regularly costs $29.95 — not AnVir Task Manager Free, which is always free.
To get AnVir Task Manager for free, do the following:
Version being given out for free: v6.5.0
Free updates: No
Free technical support: Unknown
Supported OS: Windows XP/Vista/Win7
Download size: 7.1 MB
Visit the promotion page, scroll to the end of the post, and copy the registration name and key (store them in a safe place, like a text file):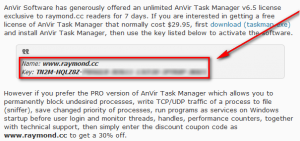 Download and install AnVir Task Manager. Take note AnVir Task Manager comes bundled with two third-party crapware, Reg Organizer and Spam Free Search Bar. To avoid installing Reg Organizer, at the second screen during installation click Custom Installation and uncheck the box for Reg Organizer: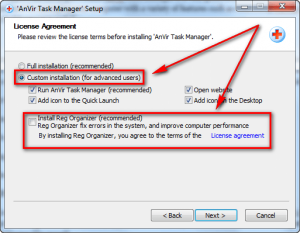 For Spam Free Search Bar a window will popup during the middle of AnVir Task Manager's installation. You need to uncheck the boxes and hit the Decline button to avoid installing Spam Free Search Bar: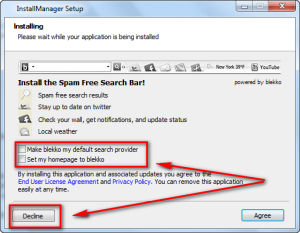 After installation run AnVir Task Manager. You will be prompted by a three-step Configuration Wizard. You can either hit Cancel or go through all the three steps, it is your choice. Whatever you pick, after you get past the three-step Configuration Wizard, go to Help -> Enter Registration Key… and register AnVir Task Manager with the name and key you copied earlier: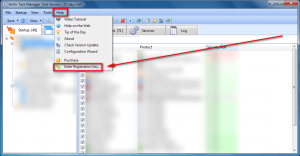 If you have trouble getting AnVir Task Manager for free, post below and other dotTechies or I will try to help.
Related Posts