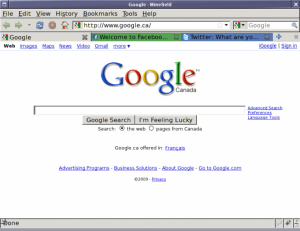 Regardless of what browser you use, you want to know that any site on which you enter personal information is secure. You can spend time looking for the famous lock or to see if it says "https" instead of the usual "http." Or, instead of spending time looking for the usual identifiers of a secure website, you can see it plain as day thanks to a Firefox add-on called Safe.
WHAT IT DOES AND HOW TO USE IT
The Safe add-on is a very small and helpful add-on in Firefox that color codes the page you are viewing, showing you that you are on a website with a secure connection (SSL/HTTPS); you will also see the tab color coded of secure pages.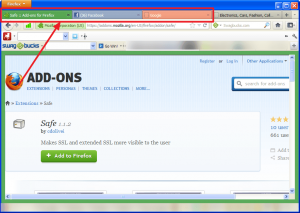 As you can see in the screenshot towards the right, pages can be multiple different colors (blue, green, orange, etc. — I have even see purple come up.) There is no significant logic behind these colors; each color doesn't stand for anything and colors appear to be selected at random whenever a secure page is loaded. Indeed, there was an instance where for me all the secure sites were blue, but then when something was done on one of the pages, the color changed from blue to orange.
The add-on's options don't involve too much unless you want to change the thickness of the color border around the windows (not the tabs). When customizing the color border thickness, keep in mind that the color border makes windows smaller, i.e. all window content is shown inside the color border. So you may not necessarily want to go insane with the thickness. Aside from that, there is an option which you can enable that tells Safe to warn you when you are sending a password on an non-secure site. This option, in my book, is very useful.
SAFE DRAWBACKS
The colors appear to have no rhyme or reason behind them; they are picked at random and mean nothing. It would be useful if Safe allowed users to either pick a specific color they want secure sites to be or provide some logic behind the colors. Just randomly picking colors can drive some people crazy.
Also, take note Safe conflicts with Firefox Personas. If you have Personas enabled, you should probably avoid Safe.
CONCLUSION
Not looking for HTTPS or the secure lock when trying to make sure you are on a secure site can take a little while to get used to; but this Safe add-on will make browsing faster once you learn to use it. Simply seeing a color and knowing that you are secure to log in or maintain your private data is almost priceless. Safe is one of those add-ons that you don't appreciate until you use it, i.e. when you visit a secure site.
You can grab Safe for Firefox from the links below:
Version reviewed: 1.1.2
Supported Browser: Firefox 3.5 – 11.*, SeaMonkey 2.7-2.7.*
Download size: 17.4 KB
Malware status: VirusTotal scan results (0/43)
Safe homepage [direct download]
[via Ghacks]
Related Posts