Software Description
The following is a description of myVault, as per the developer:
Got sensitive documents or images that need protecting? Do you also need to make sure that the aforementioned documents and images stay organized to your specific needs?

myVault does exactly that! In a nutshell, it's the digital equivalent of a filing cabinet and safe combined into a single, intuitive utility. Think of it as a TODO program in reverse — a place to keep details of the past, not the future. A place to securely archive anything and everything!

myVault makes it simple to store information and documents — encrypted or not — and to easily find, view, and edit them. It's ideal for storing photos, images, passwords, serial numbers, eBooks, receipts.
dotTech Advice
myVault is a, more or less, a notes manager that allows you to organize and store your notes, documents, and images. It has the added bonus of being able to encrypt the data you store in myVault.
Giving myVault a quick look, I found myVault to be very poor. How to operate myVault isn't very obvious. For example, I have not been able to figure out how to insert images or documents into myVault even after reading the Read Me — and I pride myself on being a software talker. The features offered by myVault aren't anything ground breaking, such as lack of a fully featured WYSISYG editor (you can only change font type, size, bold italics, underline, and change color). The encryption is Blowfish 358 which can only be used for items you have in myVault. Overall, it is hard for me to recommend myVault: It is not a very user-friendly files organizer and encryption software, in my opinion.
If you are looking for a secure program to store your passwords, credit card numbers, etc. take a look at KeePass. If you are looking for a program to encrypt files look at TrueCrypt or AxCrypt. My Lockbox is another option for hiding files. Cinta Notes is a simple notes manager you can check out, if you need a notes manager.
Freebie Details
myVault is being offered for a limited time from BitsDuJour. This giveaway ends at 23:59 Pacific Standard Time Sunday March 11, 2012. There is no information on if you can install or reinstall past the giveaway window.
To get myVault for free, do the following:
Version being given out for free: v1.6.0
Free updates: Unknown
Free technical support: Unknown
Supported OS: Windows XP/Vista/Win7 and Mac OS X 10.5+
Download size: 8.3 MB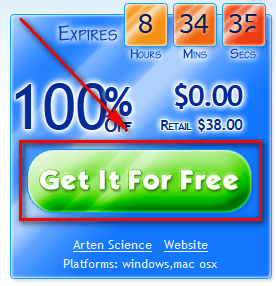 Fill out the form on the next page and click Complete Checkout: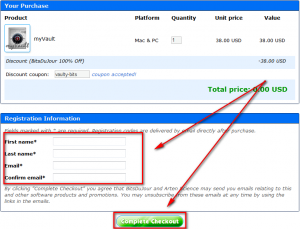 Now check the inbox of the e-mail address you registered with. Look for an e-mail from BitsDuJour notify@bitsdujour.com with subject of BitsDuJour Software Receipt – myVault. In this e-mail you will find your registration code — copy it: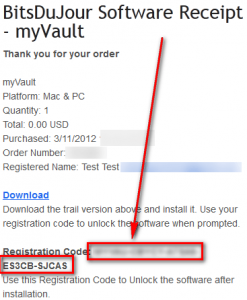 Download myVault and unzip it.
The myVault folder you extracted from the download has subfolders. Go to the myVault/Windows/myVault subfolder and double left-click on myVault.exe. (myVault is portable — no installation necessary.)
You will get the following popup message — click OK:
Now double left-click on myVault.exe again and register it using the registration code given to you earlier:


If you have trouble getting myVault for free, post below and other dotTechies or I will try to help.
[via AppFound]
Related Posts