How many programs do you have installed on your PC? Do your have every single serial key for each of your software stored in a safe place? Would you like to group them (the serial keys) in one single document? Consider it done with Abelssoft's MyKeyFinder.
WHAT IS MYKEYFINDER
MyKeyFinder (MKF) is your best friend if, by any chance, you lost a serial key for a program. MKF collects and lists all the serial keys  available in your system, including Windows and Microsoft Office Keys. Once keys are found, MKF let's you print or export (as a PDF document) them all or just the ones you select. Nothing more and nothing less.
WHAT MYKEYFINDER WON'T DO
MKF scans the registry to find serial keys. That means if a program does not store its key in the registry (e.g. some programs store keys in their folders or within their own EXE) then MKF cannot find the key. Bottom line: Don't expect MKF to find every key for every program you have installed.
GETTING STARTED
On the first run, MKF asks for your email in order to supply to you a free unlock code (and probably for Abelssoft to send you information about their products):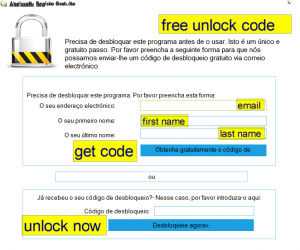 The text in the yellow boxes is me translating from Portuguese to English. Yes, dotTech is offering you a foreign language course.
The unlock code should automatically appear in the box at the bottom of the form once you fill out the form and hit the Get Code button. However, if it doesn't you can always get the code from your email box: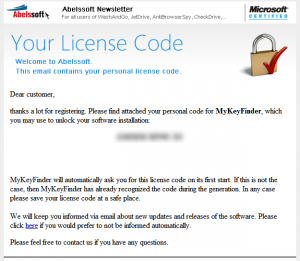 However you get the code, once the code is inputted, hit the the Unlock Now button and you are good to go.
THE ACTUAL PROCESS 
Now that you're in, MKF will start doing it's magic right away, searching for your keys. Depending on how much software you've installed on your computer, the list will be generated in about a minute or two. Once MKF is done, you are shown the keys that were found on-screen and it's up to you what to do with them — paper or digital? (Go green!)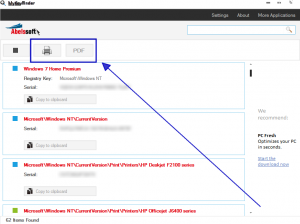 On the exit, a final screen is presented to you asking for a small tip. Don't be like me and think Abelssoft is asking for some critic feedback; it's a donation they want ($$$). You may graciously refuse, of course.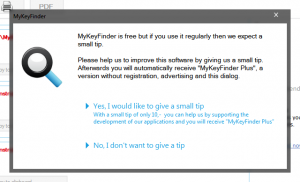 I GOT THE KEY 
MyKeyFinder is small, simple, and effective. It does exactly what it's suppose to do and, who knows, it may save the day in the future.
Grab MKF from the following links:
Price: Free
Version reviewed: v2012.2
Supported OS: Microsoft Windows XP, Vista and 7
Download size: 2.7 MB
Malware status: VirusTotal scan results (0/41)
MyKeyFinder homepage [direct download]
Related Posts