Software Description
The following is a description of FileStream Sync TOGO, as per the developer:
FileStream Sync TOGO is a portable application that offers you options of backup, sync, or mirror your files between your portable storage devices and computers, or between computers. You can install it on your computer or on USB and take it from computer to computer without installing the program again.

It provides you the Check feature so you can review and edit pending actions before committing to it. Its customizable sync list display lets you see at a glance what is going to happen and the log will let you know what has actually happened to the files.

It also provides you the option to back up deleted or overwritten files (USB does not have Recycle Bin) in case you want to roll back the actions.
dotTech Advice
As the name may indicate, FileStream Sync TOGO is a program that allows users to sync folders. Sync TOGO works with local folders, folders on the network, and folders on external media (like USB/flash drives). Sync TOGO itself is a portable application so it can be "installed" onto external drives or you can copy + paste the files onto external drives after "installing" it on your system. I put install in quotes because you don't really install Sync TOGO — it is portable, no installation necessary. Rather, you extract Sync TOGO files.
Sync TOGO is the stereotypical sync tool. You create tasks for each sync you want to do, with the ability to have as many tasks as you want. Each sync task involves two folders and you can choose to have directional sync, if you wish, and can customize the sync settings such as don't update deleted files and using filters to filter out/in specific files or file types. Tasks can be automated by time, whenever Sync TOGO runs, or whenever the device in question is plugged in.
The only major feature I found missing in Sync TOGO is the ability to encrypt/password protect and/or compress. However, these features are typically for backup programs not sync programs so I can forgive Sync TOGO for that.
Overall, based off my quick test, I found Sync TOGO to be a good sync tool. I wouldn't say it has any extraordinary features that aren't found in other sync programs; if you miss Sync TOGO you probably shouldn't whip yourself as punishment. However, Sync TOGO is a viable option if you need a sync tool — grab it if you want or need it.
Freebie Details
FileStream Sync TOGO is being given away in a promotion by the Giveaway of the Day. The promotion is live until Friday 23 March 2012 23:59 Pacific Standard Time; you must download and register during these 24 hours. Take note that while you must download and register during these 24-hours, since Sync TOGO is a portable program you can easily move it between different computers or make copies of it, if you wish.
To get FileStream Sync TOGO, do the following:
Version being given out for free: v2.6 build 0020300711
Official free updates: Unknown

Official free technical support: Unknown

Supported OS: Windows XP/Vista/Win7/Win8

Download size: 3.92 MB
If you do it properly you should see a success message like the following: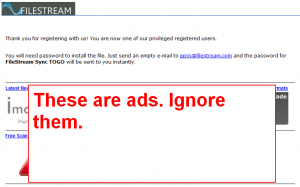 Now is a semi-tricky part. Using the e-mail address you registered with, send a

blank

e-mail to ppss@filestream.com with subject of FileStream Sync TOGO Password: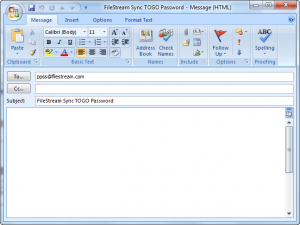 After sending the e-mail, wait a few minutes and you should get an e-mail from donotreply@filestream.com ppss@filestream.com with subject of Your FileStream Sync TOGO Password. In the e-mail you will find your registration code — copy it: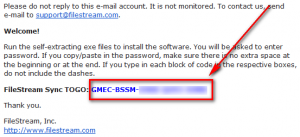 Download the giveaway ZIP file.
Extract the ZIP file and you should see two files in there — Readme.txt, and Setup.exe. Run Setup.exe. Make sure you have a valid Internet connection at the time and wait while the installer checks to make sure the giveaway is still live. Once the installer confirms the giveaway is still live, the installer of FileStream Sync TOGO will launch. Take note you will have to enter the registration code you received earlier during this installation process. Also keep in mind you aren't actually installing FileStream Sync TOGO but rather extracting its files. Follow the screenshots below if you are confused: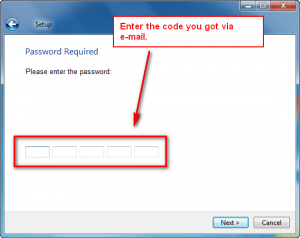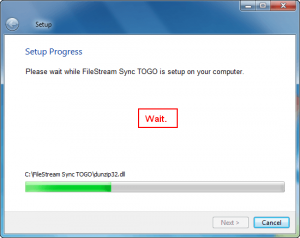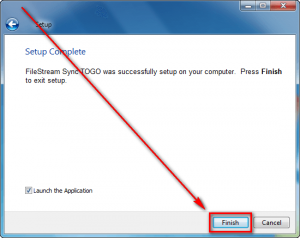 After installation of FileStream Sync TOGO finishes, the Giveaway of the Day installer will popup again — click Close (unless you want to install an optional third-party program Software Informer, in which case click Software Informer):
Done. You can now start using FileStream Sync TOGO. Keep in mind it isn't "installed" so to run it you need to navigate to the folder you extracted it to (look for the FileStream Sync TOGO folder in the root of whatever partition/drive you selected). Also remember you can copy or move the files to any other drives if you wish — it is portable. Enjoy!
If you have trouble getting FileStream Sync TOGO for free, post below and other dotTechies or I will try to help.
Related Posts