Today's Software
trimDesk: quickly hide and show your desktop and taskbar
Osiva: a quick image browser that makes each picture into a tile on your desktop
Free Launch Bar: get the Quick Launch bar in Windows 7, with more added features
Subscribe to our Windows section to never miss an article: RSS Feed | E-mail
About Windows Software of the Day
Windows has hundreds of thousands of programs. Because of this great volume and lack of a central store, software discovery (aka finding new and useful programs) is extremely difficult. With our Windows Software of the Day initiative, dotTech aims to change that. Everyday we post three programs, allowing our readers to discover new software, daily. Enjoy! [Subscribe to our Windows section to never miss an article: RSS Feed | E-mail]
Developers: Click here to get your apps featured here!
dotTechies: Want to see an app on here? Send us a tip!
Software for May 3, 2012
trimDesk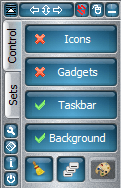 Cluttered desktops. I hate them, and I'm sure you probably do too. Now, try to hide the taskbar and even disable the desktop background. I'll be here when you're done dealing with regedit, don't worry.
trimDesk is a tiny app that lets you instantly hide your desktop background, taskbar, gadgets, and icons in just one click, either one by one or in sets. It also lets you do things like open an application while hiding various things — for instance, you can have it change your desktop background and open Word or Excel when it's time to get some serious work done.
If you have a cluttered desktop and want a quick and easy way to clean it, try trimDesk.
Price: Free with $12.75 Pro version
Version discovered: v1.1.1
Supported OS: Windows XP/Vista/7
Download size: 1.6MB
VirusTotal malware scan results: EXE – 0/42 | ZIP – 0/37
Portable version available?  No, but does not require admin powers
Osiva
Want to simply display a bunch of images as your desktop background, with each tile being an independently movable block? Try Osiva. It actually works quite well with trimDesk above, as when you use trimDesk to hide the icons and desktop background it can make images loaded in Osiva stand out more.
When you load images into Osiva, you'll notice that they're by default 1:1. However, you can easily resize them, either one by one or all at once, to various sizes like half size and eighth size. You can also load "transparent" images into them, where the transparency is actually just a white background. You can use this to make, for instance, certain overlays that don't interrupt your background.
Osiva, while kind of a novel tool, isn't really all that useful. However, it's a free download and it's worth checking out, if even for that "huh" factor it has.
Price: Free!
Version discovered: v1.3.0
Supported OS: Windows unknown
Download size: 212KB
VirusTotal malware scan results: 0/42
Portable version available? Yes
Free Launch Bar
The Quick Launch bar, which was gotten rid of in Windows 7, was many people's best friends on Windows. It provided quick access to tons of programs, and was a great little organizational tool. Although it may be gone, however, you can still get it back with additional features with Free Launch Bar.
With Free Launch Bar, you can do all the usual Quick Launch stuff: launch apps, make folders, etc. However, FLB also allows you to edit various properties of the bar: should it just be icons? Just text? Both? You can decide. You can also set up various hotkeys for each item that allow you to launch them even quicker.
Free Launch Bar is a nice little tool if you want your classic Quick Launch bar back, and brings even more to the table.
Price: Free with $19.90 upgrade to True Launch Bar
Version discovered: v2.0
Supported OS: Windows XP/Vista/7
Download size: 1.7MB
VirusTotal malware scan results: 0/42
Portable version available? No
dotTechies: We have tested all the software listed above. However, Windows Software of the Day articles are not intended as "reviews" but rather as "heads-up" to help you discover new programs. Always use your best judgement when downloading programs, such as trying trial/free versions before purchasing shareware programs, if applicable.
Related Posts