Today's Software
Subscribe to our Windows section to never miss an article: RSS Feed | E-mail
About Windows Software of the Day
Windows has hundreds of thousands of programs. Because of this great volume and lack of a central store, software discovery (aka finding new and useful programs) is extremely difficult. With our Windows Software of the Day initiative, dotTech aims to change that. Everyday we post three programs, allowing our readers to discover new software, daily. Enjoy! [Subscribe to our Windows section to never miss an article: RSS Feed | E-mail]
Developers: Click here to get your apps featured here!
dotTechies: Want to see an app on here? Send us a tip!
Software for June 3, 2012
Auslogics BitReplica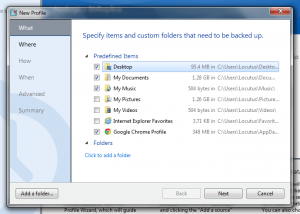 Backups are critical to maintaining a happy and useful computer experience but are oft-neglected. Many backup tools are just too complicated, and make backing up a painful, begrudging event. However, with Auslogics BitReplica, you can make backups of just the things you care about with ease.
One of the coolest things about BitReplica is that it has a fairly unique backup profile wizard that automatically presents to you things it thinks you may wish to back up. It allows you to back up your desktop, My Documents, Music, Photos, Videos, and browser profiles, as well as custom folders.
Once you've selected folders and files to back up, BitReplica will simply back them up to either an external drive or a different, internal drive. In fact, it's smart enough that if you try to back up to the same drive you're backing up, even a different partition, it warns you about data loss.
BitReplica is a cool backup utility for those looking to set up backups without any of the hassle of setting up a complicated backup program.
Price: Free!
Version discovered: v1.0
Supported OS: Windows XP+
Download size: 5.2MB
VirusTotal malware scan results: 0/42
Portability: Requires installation
LD Move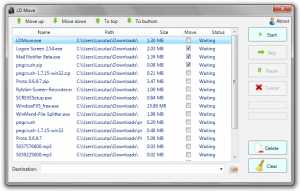 Windows' built in copy is terrible. It's slow, it freezes, it sometimes refuses to work, and is unpausable. LD Move is none of those. Most importantly, it's designed to pause, start, and even skip with ease.
LD Move is not a leader of the pack in speed, moving and copying around roughly the same speed as most other 3rd party copiers. It's still faster than Windows Explorer, and allows you to drag and drop files onto its interface, making it very easy to use. (I never was able to figure out how to use TeraCopy.)
If you're looking for a copy manager that allows you to pause and resume copies, LD Move is by no means the only option available but is still a nice tool for the job.
Price: Free!
Version discovered: v1.01
Supported OS: Windows all
Download size: 1.3MB
VirusTotal malware scan results: 0/42
Portability: Entirely portable!
Free Internet Window Washer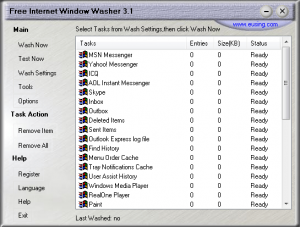 Looking for a nice tool to compliment CCleaner? Try Free Internet Window Washer. It's a free tool available for any computer running Windows 95 or up, and is pro at clearing temp files and logs.
It can clear data from programs like Office 2003, various messengers, Windows XP's Outlook Express, and many more applications. As a cool little trick on the side, it features a "Boss Key" setting that lets you hit a key to hide various web browsers, such as Internet Explorer, Mozilla Firefox, Opera, or Netscape.
As you can tell, FIWW is not a new program, nor is it the most up-to-date program. It's not really an issue so long as you don't make it your primary cleaning program, but it certainly doesn't bode well for its future, as it doesn't support Office 2007+ or Chrome.
Price: Free!
Version discovered: v3.1
Supported OS: Windows 9x+
Download size: 1.2MB
VirusTotal malware scan results: 0/42
Portability: Requires installation.
Free Internet Window Washer homepage
dotTechies: We have tested all the software listed above. However, Windows Software of the Day articles are not intended as "reviews" but rather as "heads-up" to help you discover new programs. Always use your best judgement when downloading programs, such as trying trial/free versions before purchasing shareware programs, if applicable.
Related Posts