Today's Apps
Doit.im Pro [Task manager that syncs across multiple platforms and follows the five stages of Getting Things Done]
Wondershare MobileGo [Desktop-based phone manager that allows users to do things like backup data, manage contacts, and convert media files]
Super Chicken [Game]
Subscribe to our Android section to never miss an article: RSS Feed | E-mail
About Android Apps of the Day
Android has over 450,000 apps. With so many apps out there, app discovery (aka finding new and useful apps) is extremely difficult. With our Android Apps of the Day initiative, dotTech aims to change that. Everyday we post three apps, allowing our readers to discover new apps, daily. Enjoy! [Subscribe to our Android section to never miss an article: RSS Feed | E-mail]
Developers: Click here to get your apps featured here!
dotTechies: Want to see an app on here? Send us a tip!
Apps for June 4, 2012
Doit.im Pro
Looking for a task manager that not only allows you to manage tasks on Android but also to sync the tasks across other platforms, such as the web or your PC? Look no further than Doit.im Pro. Doit.im Pro is a task manager app that follows the five stages of Getting Things Done: ollect, Process, Organize, Review, Pick tasks and Do. Features of Doit.im Pro include the ability to add tasks (with details such as title, start time, deadline, ability to repeat, categorizing into categories ["projects"], setting priority, setting reminders, and setting tags), reorder tasks, delete tasks, send tasks to contacts, etc.
If you are widget fans, Doit.im Pro has interactive widgets that list tasks — widgets of 2×2, 3×3, 3×4, 4×3 — and a 4×4 widget that lists a calender.
That said, one of the best features of Doit.im Pro is its ability to sync tasks across multiple platforms. By design tasks are stored in the cloud and synced with Doit.im; you can then access your tasks across platforms such as iOS, web, Mac, and Windows. You need to of course download the programs on those platforms aside from the web platform.
Price: Free
Version discovered: v3.6
Requires: Android 2.1 and up

Download size: 1.8 MB
Wondershare MobileGo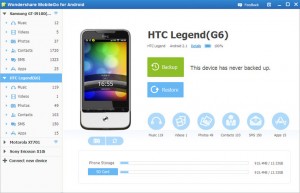 Wondershare MobileGo is a two-part app that allows users to manage your Android devices from your Windows PC. You download MobileGo on your Android and the Windows version on your PC; then via WiFi or USB cable you connect your Android device to your Windows PC. Once connected, you manage your Android device from your Windows PC. Tasks you can do from your PC include: the ability to transfer media files between your device and PC — and if you are transferring incompatible media (audio and video), MobilePC automatically converts the media file to a format supported by your Android device; manage photos including transferring, viewing, rotating, deleting, etc.; backup and restore your data (contacts, messages, APK, etc.); read, receive, and send SMS messages; take screenshots; and more.
Price: Free
Version discovered: v2.0.231
Requires: Android 2.0 and up

Download size: 838 KB
Wondershare MobileGo on Play Store
Super Chicken
Super Chicken is an-arcade style game in which the goal of each stage is to hatch three eggs by collecting them and sitting on them. You do this by flying your chicken (tap and hold to fly; let go to fall) and landing it on the nest. As you progress through the levels they get harder with added obstacles such as trees (which you get dazed and lose if you run into), sparrows, and a fox that steals eggs.
Price: Free
Version discovered: v1.5.4
Requires: Android 2.0.1 and up

Download size: 10 MB
dotTechies: We have tested all the apps listed above. However, Android Apps of the Day articles are not intended as "reviews" but rather as "heads-up" to help you discover new apps. Always use your best judgement when downloading apps, such as trying trial/free versions before purchasing paid apps, if applicable.
Related Posts