Today's Software
WinOwnership: take ownership of a file so you can modify it
First PDF: convert PDF to RTF/TXT/PNG/DOC/TIFF
AutoUP: automatically check and download updates for 68 programs
Subscribe to our Windows section to never miss an article: RSS Feed | E-mail
About Windows Software of the Day
Windows has hundreds of thousands of programs. Because of this great volume and lack of a central store, software discovery (aka finding new and useful programs) is extremely difficult. With our Windows Software of the Day initiative, dotTech aims to change that. Everyday we post three programs, allowing our readers to discover new software, daily. Enjoy! [Subscribe to our Windows section to never miss an article: RSS Feed | E-mail]
Developers: Click here to get your apps featured here!
dotTechies: Want to see an app on here? Send us a tip!
Software for June 4, 2012
WinOwnership
"Ha ha, you don't own that file! You can't make a single change to it."
–Windows
Ever try to modify a file and discover that–whoops–you don't own it and Windows won't let you edit it? There are long and complicated ways to take ownership of a file, but you can also use WinOwnership, a free program that lets you take ownership with a drag and a click.
To use WinOwnership, you can either drag a file onto it or double click it to open a selector. I had a fairly hard time getting it to select a file, but eventually it worked. To tell the truth, it's not a terribly useful program, but if you need something to unlock a file, WinOwnership is a nice looking tool that can get it done quickly.
Price: Free!
Version discovered: v1.1
Supported OS: Windows XP+ with .NET 4.0
Download size: 2MB
VirusTotal malware scan results: 0/41
Portability: 
First PDF
Want to convert a PDF to a rich text document? A Word document? A PNG file? A text document? A MULTI-PAGE TIFF FILE?! First PDF is a free tool that can do just that.
First PDF, like many other similar tools, supports many formats. You can convert a PDF to an editable Word document, various image formats, extract the text to a text document, or convert it to an RTF file. While you're converting, it'll actually keep things like tables, bullets, fonts, links, and supposedly even forms. During some basic testing, it appears that it is able to keep documents formatted well, although I didn't delve too deep into it.
You can download the following PDF, DOC, and PNG files to see the conversion quality for yourself. As it produces a single PNG per page, I've zipped up all of the PNGs into a single ZIP file.
PDF | DOC | PNG 
PDF | DOC | PNG
Price: Free!
Version discovered: v1.0.5.22
Supported OS: Windows ME+
Download size: 7.3MB
VirusTotal malware scan results: 0/43
Portability: Requires installation
AutoUP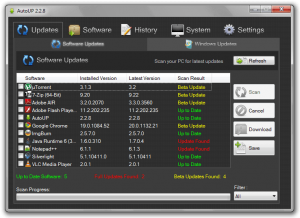 If I had a dime for every time I saw a program that claimed to update Firefox, Chrome, and your neighbor's dog, I'd have a lot of money. AutoUP is one of these updater programs, and although it does have a fairly impressive list of supported software, with 68 popular applications supported, but it's definitely not comprehensive.
However, that doesn't mean it's not bad. It scans not only for regular updates of software, but for beta versions as well, and lets you download and install the software it supports that you don't already have.
It also has a built in downloader, which is quite nice. Many update programs just shove you out to the developer's site leading to a feeling of discord and malaise. (Perhaps it's not that bad.) AutoUP still has its quirks, such as the requirement that you check the checkboxes each time you try to do something such as scan for updates or download updates, but overall, it's a good little updater for the pieces of software it supports.
Price: Free!
Version discovered: v2.2.8
Supported OS: Windows unknown
Download size: 299KB
VirusTotal malware scan results: 0/42
Portability: Entirely portable!
dotTechies: We have tested all the software listed above. However, Windows Software of the Day articles are not intended as "reviews" but rather as "heads-up" to help you discover new programs. Always use your best judgement when downloading programs, such as trying trial/free versions before purchasing shareware programs, if applicable.
Related Posts