Today's Software
FBReader: read ebooks of various formats with a small and clean program
Calibre: download metadata, convert ebooks, and send them to your devices
Kindle for PC: read ebooks from your Amazon Kindle library on your computer
Subscribe to our Windows section to never miss an article: RSS Feed | E-mail
About Windows Software of the Day
Windows has hundreds of thousands of programs. Because of this great volume and lack of a central store, software discovery (aka finding new and useful programs) is extremely difficult. With our Windows Software of the Day initiative, dotTech aims to change that. Everyday we post three programs, allowing our readers to discover new software, daily. Enjoy! [Subscribe to our Windows section to never miss an article: RSS Feed | E-mail]
Developers: Click here to get your apps featured here!
dotTechies: Want to see an app on here? Send us a tip!
Software for June 12, 2012
FBReader
Want to read ebooks on your computer? There are a lot of ebook reading programs out there, and all of them offer slightly different features. FBReader is one of those programs. While active development is primarily on the Android version, it has a solid Windows version that allows you to read ebooks without getting distracted by features flooding from every which way.
Just because it's not under active development does not mean that it did not get very far in development before being halted. FBReader supports tons of formats, like html, chm, plucker, palmdoc, oeb, rtf, and fb2. And, if your books are pre-compressed, FBReader can read books from zip, gzip, and bzip2 archives, so you don't even need to use a decompressing tool first.
If you're looking for a lightweight tool to read your ebooks, you can't go wrong with FBReader.
Price: Free!
Version discovered: v0.12.10
Supported OS: Windows XP+, Mac OS X, Linux, Android, etc
Download size: 5.1MB
VirusTotal malware scan results: 0/41
Portability: Requires installation
Calibre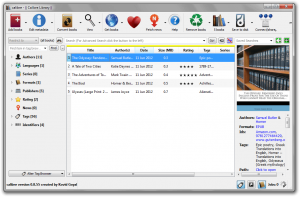 You've downloaded a bunch of ebooks… but now what do you do with them? Although you've tried reading them with FBReader, you've decided that the harsh glow of your LCD screen is too much, and you want to read them on your Kindle or Nook. Enter Calibre: this handy tool can automatically fill out a book's information using automated online services, convert books into numerous formats, and sync books to Nooks, Kindles, and more.
To learn how to use Calibre, the developer created a eight minute screencast showing off its main features (this video has been rehosted by a YouTube user as the official copy is not on YouTube):
If you watched the video, you'll know that Calibre is quite the tool. It can not only magically download cover art for your books, it can scrape various news services like the Economist, EPSN, The New York Times, and other papers. It can also sort your books by virtually any criteria, and has a farily awkward built-in reader as well!
Calibre is great for anyone who owns a Kindle, Nook, or other reader: it's the iTunes of the ebook world, without the bloat.
Price: Free!
Version discovered: v0.8.55
Supported OS: Windows XP+
Download size: 45.2-55.9MB
No VirusTotal scans; files too big
Portability: Portable version available!
Kindle for PC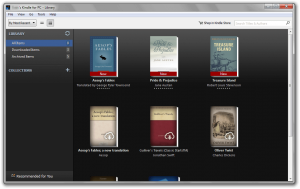 Own a Kindle? Then the best PC reading program is by far and away Kindle for PC. If you use Kindle on multiple devices, you've probably noticed it automatically knows what you've read, even if you didn't read it on any one particular device. Using Kindle for PC will continue this convenience across your PC, allowing you to do all the things you normally would on a Kindle.
Kindle for PC can look up words in a built-in dictionary, search inside your books, look up events, characters, and quotes from a book, take notes from books, and much more. It's a fully-featured, Amazon-synching, Kindle client for your computer that allows you to read your books in even more places.
Price: Free!
Version discovered: v
Supported OS: Windows XP+
Download size: 27.6MB
VirusTotal malware scan results: 0/42
Portability: Requires installation
dotTechies: We have tested all the software listed above. However, Windows Software of the Day articles are not intended as "reviews" but rather as "heads-up" to help you discover new programs. Always use your best judgement when downloading programs, such as trying trial/free versions before purchasing shareware programs, if applicable.
Related Posts