Today's Apps
Subscribe to our Android section to never miss an article: RSS Feed | E-mail
About Android Apps of the Day
Android has over 450,000 apps. With so many apps out there, app discovery (aka finding new and useful apps) is extremely difficult. With our Android Apps of the Day initiative, dotTech aims to change that. Everyday we post three apps, allowing our readers to discover new apps, daily. Enjoy! [Subscribe to our Android section to never miss an article: RSS Feed | E-mail]
Developers: Click here to get your apps featured here!
dotTechies: Want to see an app on here? Send us a tip!
Apps for June 12, 2012
Simple Time Widget
Simple Time Widget is a widget that displays the current date and time in a 2×1 homescreen widget. Clicking on the date in the widget opens your calendar app while clicking on the time in the widget opens the alarms app. Simple Time Widget follows system settings for time and date formats.
Simple Time Widget comes in a free and in a paid version. Simple Time Widget, the free version, has all the features mentioned above. Simple Time Widget Pro (the paid version) adds customization features, such as changing the color of the text in the widget.
Take note Simple Time Widget doesn't appear to work in Android 4.x.
Price: Free
Version discovered: v0.4
Requires: Android 2.1 and up
Download size: 62 KB
Simple Time Widget on Play Store | Simple Time Widget Pro on Play Store
Highway Death Racing
Highway Death Racing is a 2D, top-down car game for Android. In Highway Death Racing you control a 'Super Sports Police Cruiser' (using on-screen controls of left/right and speed up/brake) on a highway with the goal of catching prisoners who just escaped from prisoner. However, you don't actually catch them; rather, you run them off the road until they are destroyed. Your cruiser has a health bar and every time you run into another car (there are other civilian cars on the road, along with the prisoners' cars) you lose some health; there are health bonuses you can pick up along the way but if you lose all health then it is game over. Each level has X number of prisoners you need to run off the road after which you can progress to the next level.
Take note there are comments about lag in Highway Death Racing. During my tests I didn't experience much, if any, lag but the animations on the side of the highways were extremely glitchy on my Nexus S.
Price: Free
Version discovered: v1.0.0
Requires: Android 1.6 and up
Download size: 3.5 MB
Highway Death Racing on Play Store
Free-a-Tree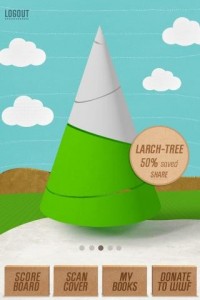 Free-a-Tree is an app created through the collaboration of WWF Russia and Google. The goal of the app is to encourage people to save trees by purchasing e-books instead of printed books. Free-a-Tree does this by finding e-book versions of printed books at popular online e-book stores such as Google Books.
How Free-a-Tree works is you scan the cover of any book you plan on buying. Free-a-Tree then searches online e-book stores and recommends an e-book version of the book you want, allowing you to purchase the e-book over the printed book. The principle here is the less printed books you buy, the less trees will be cut down; and you still get to enjoy your reading thanks to electronic versions of books.
Other features of Free-a-Tree include counting the number of pages you saved by not purchasing a printed book; and growing in-app trees, to symbolize how many trees you saved.
Price: Free
Version discovered: v1.2.7
Requires: Android 2.2 and up
Download size: 12 MB
dotTechies: We have tested all the apps listed above. However, Android Apps of the Day articles are not intended as "reviews" but rather as "heads-up" to help you discover new apps. Always use your best judgement when downloading apps, such as trying trial/free versions before purchasing paid apps, if applicable.
Related Posts