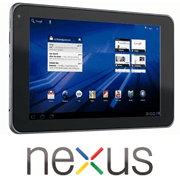 A representative of the computer manufacturing company ASUS has revealed Google will be announcing a Nexus branded tablet at the end of June.
The anonymous representative revealed very little details about the tablet but was quoted saying "it [the tablet] will be awesome". After much research I was unable to confirm or deny that a Nexus tablet will be made, aside from this anonymous tip. What we do know is that Google has been talking about a Nexus tablet for some time now. We also know that a Nexus tablet appeared on a benchmarking website called Rightware; and Google's ex-CEO Eric Schmidt has been promising a Google tablet will be coming out soon.
The results and information about the tablet from Rightware give us limited details on the Nexus tablet:
The screen will be 7 inches
Resolution of 1280 pixels by 768 pixels
NVidia Tegra 3 quad-core processor clocked at 1.3 GHz
NVidia ULP GeForce GPU
Android OS 4.1 "Jelly Bean"
Based on its screen size, the device is going competition for 7 inchers like Galaxy Tab 7 and Kindle Fire. Other than that, we don't know much else about the tablet but it surely won't disappoint.
Related Posts