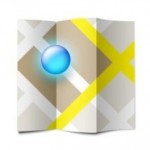 As Justin reported earlier today, in a move that is expected to bring more tension to the strings between the two smartphone giants, Apple replaced Google Maps for it's own solution in it's latest operating system, iOS 6. The latest iteration of iOS, iOS 6 was released amidst the first day specials of the Apple Worldwide Developers Conference (WWDC) being held at Moscone Center West in San Francisco, from June 11 to 15, 2012.
As Apple says in it's updated Store, Apple Maps (officially named just 'Maps' as of now), brings in a number of features that might look appealing to any type of user. According to the iOS 6 Preview details, Maps will provide many useful features like:
Real-time traffic information, which would help it's user to make calculations on their ETA; and provide you with alternate routes when required.
Flyover, another interesting feature which enables interactive 3D views is one of the main highlights.
Siri, one of the most famous voice-controlled assistants has got better.
Though Flyover might look to be a fresh feature, Google had already acted intelligent by announcing an excitingly impressive 3D maps for Android, though it didn't mention when Android users would be getting hold of the feature.
Though Apple has got rid of Google Maps, it is reportedly said that Apple will be using third-party transit app integration (probably meaning that the Maps will not feature transit options).
With some ardent Apple fans naming it to be a change for the good, kicking out the 'comparatively featureless'  Google Maps from iOS 6; and with the Android lovers saying, pointing out the newly announced 3D maps for Android, "Who cares?", what is your take on the move?
[via BBC News]
Related Posts