Being able to automatically make my computer come out of stand by has always been a novelty idea for me. Being able to make it come out of stand by and hibernation is like heaven. Being able to do tasks and send it back to standby or hibernation is like heaven 2.0. Not sure how practical being able to do all this is, but it sure is fancy. If you also want to ascend from the levels Have-Nots and enter the realm of the Privileged keep reading.
Today's tips 'n tricks post involves an interesting piece of freeware 1s and 0s (aka software) that goes by the name of WakeUpFromStandby: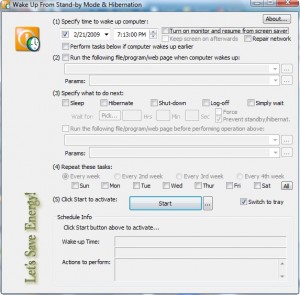 WakeupFromStandby is feature filled and it works. Only step #1 is required if you want to use this software – steps #2-4 are optional. Here are the full list of features as per the developer:
Can restore almost every Windows-based operating system from a Stand-by mode (and some from hibernation) that support ACPI (Advanced Configuration and Power Interface) (For support check computer's BIOS as well as Control Panel -> Power Options);
Can run a file or open a web page at a predetermined time after a wake-up event, during normal operation, or before performing power operation;
Can send system back to Stand-by mode (hibernate it, shut it down, or log off user) after a certain time interval;
Can detect if Stand-by mode (or hibernation) is supported by your system;
Can turn the monitor on and hold off screen-saver during the waiting time;
Can repair local area network and high-speed Internet connection upon waking up from a suspended state;
Can send system into Stand-by mode or hibernate it with more options than available through Operating System;
Can be incorporated into an in-car (entertainment) PC system to speed up booting time & save battery;
Can be run from the Windows Command Line without user interaction;
Can be saved as a batch file for later use.
WakeupFromStandby supports Windows 98/ME/2000/XP/Vista. You need ACPI running in order to use WakeupFromStandby. If you are in XP/Vista (I don't know about 98/ME/2000), unless you specifically turned off ACPI, ACPI is on by default, so don't worry about that. The best part about WakeupFromStandby is that it is a standalone application – no installation needed.
As I alluded to above, I tested this software on Vista Home Premium 32-bit and it works perfectly. However, there are two concerns I have with this software:
I have not tested this software in XP so I don't know if the same thing happens, but to Vista users: you know when you pull your computer out of hibernation and standby you must click on your username to login to your computer? Well whenever WAkeupFromStandby awakes your computer from standby or hibernation, it is unable to get past this screen and therefore it sits there. However, if you set a task to occur after your computer awakes (see step 2 in the above screenshot), the task is still carried out and when you get past the login screen, you should see it done.
I do not password protect my Windows username so I have not tested it to see if WakeupFromStandby still works 100% under a password protected username.
If you are still interested in getting WakeupFromStandby, you can get it from the developer's website or directly download it by clicking here.
Related Posts