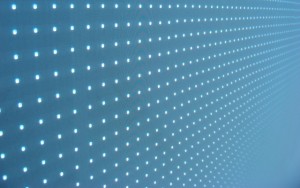 Ashraf1:
"Raise your hand if you are constantly changing our desktop wallpaper because you get bored of it easily. Raise your hand if you would like a way to allow the wallpaper to change automatically at an interval of your choosing, effectively turning your desktop into an art gallery."
Ashraf2:
*Raises hand* "Oooo pick me, pick me."
Okay enough with the Ashraf-talking-with-himself. Today I am going to show you how you can make your desktop wallpaper change automatically, either using a library of images provided by others or using a library of images you have gathered on your own, so you don't have to suffer by seeing the same desktop background day in and day out. Yes, I know I am such a caring  person.
How to go about turning your desktop into an art gallery will depend on which of one the following category you fall into:
You have a collection of images (photographs, digital art, etc.) located on your computer and you would like to use those images as your source for the desktop wallpapers that will be displayed.
You don't have a collection of images, but you would still like to be able to change your desktop automatically so you don't have to look at the same desktop wallpaper all the time.
If you fall into the second category, you can skip down to part 2; otherwise keep reading.
Part 1
I have my own images that I would like to use for my desktop wallpapers.
Download Automatic Wallpaper Changer. Click here for a direct download link.
Install Automatic Wallpaper Changer. ***I got an error where the program would not register a DLL file, you may also get the same error. I just hit ignore and the program installed fine and it works perfectly.
Run Automatic Wallpaper Changer.
Go to File -> Preferences and set the settings that you like (for most of us, only "Period" under "General" and "Stretching" under "Image Processing" will be important):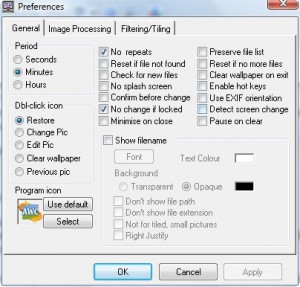 After you are happy with your settings, go back to the main program window, and set your directory. Chose the folder that contains your image files. GIF, PNG, BMP and JPG all will work: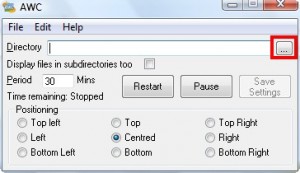 Set all your settings, such as period and positioning.
Hit "Save Settings".
Hit "Restart".
Minimize the program window, sit back, and enjoy the show.
For anyone worried about computer resource usage, as I speak, I have AWC running: it is using 0-1% cpu and ~4MB of RAM.
NOTE: Automatic Wallpaper Changer is now shareware. The version I linked to you is 3.0.7, the last freeware version out there. Therefore, don't upgrade to the newest version!
Part 2
I don't have my own collection of images that I would like to use, but I still want my desktop wallpaper to change automatically.
Download Desktoptopia. Click here for a direct download link. ***Desktoptopia is in Beta but it works fine.
Install Desktoptopia.
Run Desktoptopia.
Check "Auto-change background every:" and set the interval that you want your desktop wallpaper to change. You can set it in seconds, minutes, hours, days or weeks: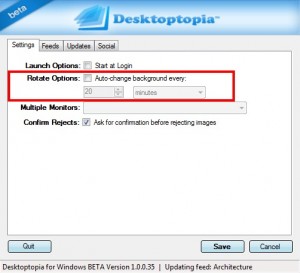 Hit "Save". The program will be minimized to system tray automatically.
Sit back, relax, and enjoy the show. Your wallpapers will change randomly from the database the developer provides (look under "Feed").
If you use Tweeter, you can submit a tweet everything your wallpaper changes with Desktoptopia – look under "Social" tab.
For anyone with an old computer, Desktoptopia uses more resources fluctuate: 0-25% CPU (it is usually around 0-1% CPU usage while idle; it only rises when the wallpaper is changing) and 4-12MB of RAM (it is usually on the lower side of the RAM while idle).
Enjoy.
Related Posts