Update: This offer has ended =(
First what is jv16 PowerTools? A pretty good computer tuneup program (similar to how TuneUp Utilities 2007 or WinOptimizer 5 are tuneup utilities). Simple as that.
Here are all the tools this program has:
Software Uninstaller
Startup Manager
Registry Manager
Registry Cleaner
Registry Finder
Registry Find and Replace
Registry Monitor
Registry Compactor
Registry Information
File Finder
File Cleaner
File Organizer
File Recovery
Duplicate File Finder
File Tool
Directory Finder
Directory Tool
Disk Wiper
Service Manager
System Cleaner
System Optimizer
Start Menu Tool
History Cleaner
Automation Tool
According to the developer, this is what jv16 PowerTools can do:
Instantly make your Windows run faster and smoother, by disabling certain features which have no useful function and by modifying a few key aspects of the system's behavior.
Automatically clean your Windows registry from obsolete and unneeded data.
Automatically fix many kinds of registry errors, such as broken file references.
Easily uninstall leftover traces of software you have thought you have already uninstalled ages ago.
Detect and remove unneeded history data and MRU (most recently used) lists that can contain sensitive information about you.
Locate and delete unneeded files, including temp files and duplicate files.
And much, much more!
Still interested? Well getting this program for free is not as simple as the other offers I have posted about:
1. Download the developer's ad in either PDF, JPG or in PNG format.

2. Print the ad to an A4 sized paper (in other words, the normal size white paper you put in your printer). You can use either a color printer or a black and white printer, but the quality of the print must be at least decent.

3. Attach the print to some visible and good location. For example, to your school's or work place's bulletin board.

4. Take a few clear photographs of it as proof and send them to the developer at print-campaign@macecraft.com. And remember to mention your name and to which email address you wish the free license to be sent to.

5. Wait for your free license! The developer will verify all submissions within 24 hours of their arrival.
Of course there are ways to cheat…but the developer specifically mentions "We reserve the right to disqualify any participant if the rules or the spirit of the offer are violated."
I have yet to do this myself, but this offer is listed right on the developer's website so it is legit: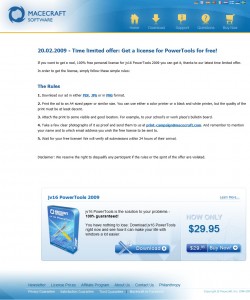 Let me know how it goes for whoever tries to get the free license.
Of course I found this deal on Slickdeals…as always =D.
Related Posts