You have a final project due on interracial marriages; you need to do some research so you go to Google.com and type in "interracial marriages". You find a link that you think may be relevant to your research and you click on it. The page is not bad but you need more sources than just that one. So you go back and look through 5 more websites – all 5 suck and are irrelevant. With millions of results appearing for your search query this is bound to happen – over and over. Surf Canyon is attempting to change that.
Surf Canyon is a Firefox and Internet Explorer extension/plugin that helps reduce the tedious task of trying to find relevant results from a search engine (Surf Canyon works with Google, Yahoo, MSN/Live Search, Craigslist, and Lexis Web). Next to every search result, a little bullseye is placed. When you click on the bullseye Surf Canyon suggests websites that are similar to the parent search result; websites that may interest you. As you use Surf Canyon more, the more it learns about your searching habits and the better suggestions it gives.
After you install Surf Canyon, you can customize your settings, changing things like your "preferred" or "disliked" websites, enabling/disabling Surf Canyon for a specific search engine, or changing the amount of recommendations Surf Canyon gives you.
My explanation does not give justice to what this program can do. View this demo video created by the developer to gain a better understanding: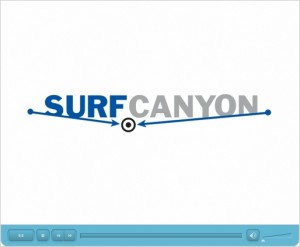 You must click on the video to start viewing it. If you are unable to click on the video that means you have JavaScript disabled – click here if that is you.
There is one small bug that I am experiencing on Firefox (it may just be me). With Surf Canyon enabled when I try to hit "Next" to go to next page on Google it does not work properly. However if I click on a page number it works just fine. The bug is annoying but forgivable in my opinion – it does not break the program for me.
All things considered, Surf Canyon is a handy program if I do say so myself. If you agree, you can download Surf Canyon from the following link:
***Update***
If you have any problems with Surf Canyon, drop the developers an email – they seem very eager to help out. Special thanks to Mark for coming here and assisting to the best of his ability.
Related Posts