You dish out an arm and a leg for a brand new, shiny Samsung Galaxy S III. To celebrate you take your new best friend (i.e. SGS3) for a joy ride in your comparatively shitty car. To keep the phone safe you put the device in your car's phone holder. Life is good. Then all of a sudden your beloved Galaxy S3 explodes; it catches on fire from the inside and in the process melts the plastic casing. What do you do then? In the case of an Irish man dubbed 'dillo2k10', you take to the Internet.
On an online forum Boards.ie, a user by the name of dillo2k10 started a thread proclaiming:
So I [was] driving along today with my Galaxy S3 in my car mount when suddenly a white flame, sparks and a bang came out of the phone. I pulled [the car] in to look at my phone, the phone burned from the inside out. Burned through the plastic and melted my case to my phone. The phone kept working but without any signal.

The phone was destroyed and it slightly burned a piece of plastic on the inside of my car.
As proof, the user posted the following images of the disaster: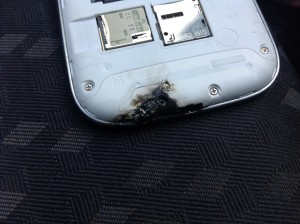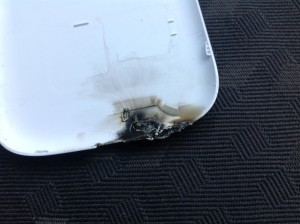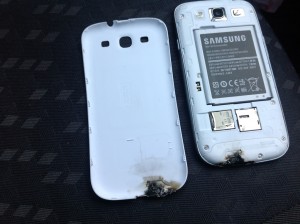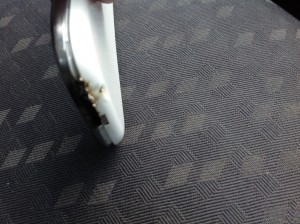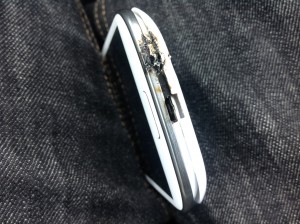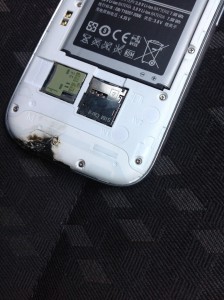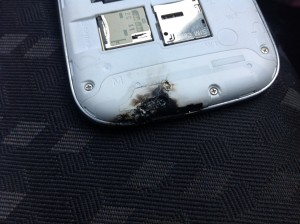 The user further states Carphone Warehouse, the retailer he bought the device at, refused to replace the phone without first having it be sent to be "checked". This, of course, is fairly standard procedure but Carphone Warehouse left the user in the dust by refusing to supply even a temporary replacement phone while his obviously destroyed SGS3 is checked. Fear not, however — Samsung swooped in to save the day. Samsung's head of Customer Service visited the user and provided him with a replacement, brand-new Galaxy S3 at no cost and even promised to send him other freebies in the future. Similarly, Samsung issued a statement proclaiming they are investigating the issue at hand:
"Samsung is aware of this issue and will begin investigating as soon as we receive the specific product in question. Once the investigation is complete, we will be able to provide further details on the situation. We are committed to providing our customers with the safest products possible and are looking at this seriously."
It is worth noting no one is really sure, yet, why the device caught on fire. It could be because the device had a bad part; or it could be a different reason. dillo2k10 him/herself states the combustion may have been "caused by a combination of my car mount and my cars heating system." Although we don't expect Samsung to issue a statement putting blame on the device itself (because that would likely open them up to liability across the globe), we do hope Samsung will shed some light on this matter in the near future, after concluding its investigation.
[via IT Pro Portal]
Related Posts