Today's Software
TextCrawler: extract, replace, and find text in files
Clotho: hide and encrypt files inside other files
Mousotron: track total mouse movements, clicks, and keyboard strokes
Subscribe to our Windows section to never miss an article: RSS Feed | E-mail
About Windows Software of the Day
Windows has hundreds of thousands of programs. Because of this great volume and lack of a central store, software discovery (aka finding new and useful programs) is extremely difficult. With our Windows Software of the Day initiative, dotTech aims to change that. Everyday we post three programs, allowing our readers to discover new software, daily. Enjoy! [Subscribe to our Windows section to never miss an article: RSS Feed | E-mail]
Developers: Click here to get your apps featured here!
dotTechies: Want to see an app on here? Send us a tip!
Software for June 23, 2012
TextCrawler
Need to see if a certain error message has appeared at all? Want to know if someone said something in one of your chat logs? TextCrawler is a great program to do both of these things, and much more, for free.
TextCrawler is essentially Find and Replace for your whole computer. You can use it to find, replace, or even extract text in any file or folder you specify. This is handy, for instance, if you're looking for a certain person in chat logs, or need to remove all references to something in your home-grown web page.
It also allows for find-and-replace using regex, batch commands, and even a type of fuzzy search. If you search for "hello", it'll also return results for "ell" and "hlo". This is nice if you can't quite remember what the exact phrase you're looking for is.
All in all, TextCrawler is quite a nice program. It'll also be especially useful if you're looking for certain strings in files all day.
Price: Free!
Version discovered: v2.2
Supported OS: Windows XP+
Download size: 310KB
VirusTotal malware scan results: 1/42
Portability: Requires installation
[via AddictiveTips]
Clotho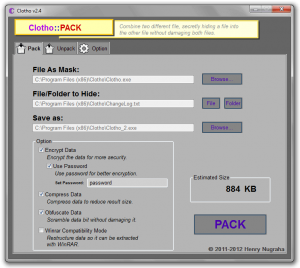 Want to hide or secure your files? If you want them simply encrypted, there's TrueCrypt and other encryption programs, but they generally leave very obvious marks of hidden stuff. With Clotho, your files can not only be encrypted but also safely hidden away inside another file. (It is not clear how the files are encrypted.)
By now, you've probably learned about steganography: the art of hiding things in plain site. What this means on a computer is embedding files inside of each other so what looks like a single picture can really be a picture and your hidden password file.
Clotho lets you also use various un-archiving programs to extract the data, though in doing this it sacrifices encryption. It's a very well-rounded program and is in quite active development.
Price: Free!
Version discovered: v2.4
Supported OS: Windows 
Download size: 984KB
VirusTotal malware scan results: 1/42
Portability: Requires installation
[via Ghacks]
Mousotron
From the "silly but useless" department, Mousotron is a free program to track keyboard and mouse usage over time. Did you know that in the last hour my mouse has traveled almost 90 yards, and I've made over 4000 keystrokes? Mousotron is a cool program that measures most any mouse and keyboard related thing there is.
Mousotron measures cursor distance, keystrokes, left/right/middle mouse clicks, double clicks, how many lines you've moved with the mousewheel, and the current speed of the cursor. Note that for some information to be correct, you have to set the screen size in Setup first.
Mousotron is a cool but useless little program, and it shows that with its online leaderboards. If you think you've got what it takes, you can look at its online high scores for distance and keystrokes. Some of the people are quite impressive!
Price: Free!
Version discovered: v7.0
Supported OS: Windows unknown
Download size: 862KB
VirusTotal malware scan results: 0/42
Portability: Requires installation
dotTechies: We have tested all the software listed above. However, Windows Software of the Day articles are not intended as "reviews" but rather as "heads-up" to help you discover new programs. Always use your best judgement when downloading programs, such as trying trial/free versions before purchasing shareware programs, if applicable.
Related Posts