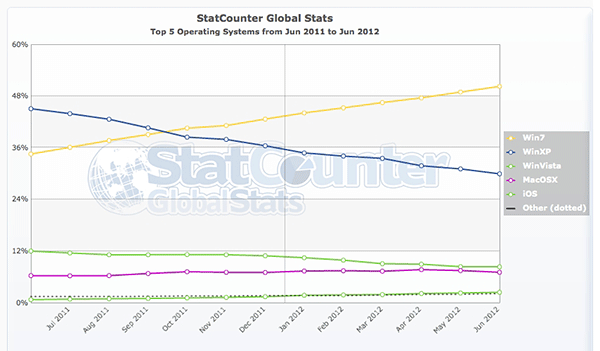 With Windows 8 on the horizon, Windows 7 has become the most used operating system in the world, recently surpassing the 50% mark in June 2012.
According to StatCounter, Windows 7 had overtaken Windows XP back in the mid-September 2011 to become the most used operating system. However at that time Windows 7 didn't have the coveted 50% market share. Now, however, according to the statistics 50.2% of the total computer users use Windows 7 as the primary operating system, with Windows XP still standing quite good (though getting reduced over time) in second place with 29.9% users. It should be noted Windows XP is over a decade old; so for it to have almost 30% market share now is truly a testament to how big of a hit it was (is).
[Note: It should be mentioned StatCounter provides statistics garnered from website hits. So, technically speaking, it would be better said that Windows 7 is the most used operating system for people who go online. However, lets not split hairs here.]
Flagged as one of the flops by Microsoft, Windows Vista stands third in the list. The usage of Windows XP and Windows Vista is currently on the descend and the user population of both are expected to go down further after the release of Windows 8; especially considering Microsoft is planning to offer some good deals for users switching to Windows 8. iOS and Mac OS X gets the next two spots with iOS scoring slightly more than Mac OS X. Interestingly, "other" operating systems make up only a slight percentage of the total user population.
Are you still stuck with your old OS, or do your thoughts convey another probable statistic? If so, do share your comments with us.
[via Engadget]
Related Posts