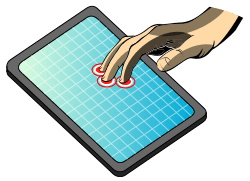 Have you ever wished you had an extra hand so that you could do those multi-touch operations on your smartphone or tablet (i.e. use two hands) while you had your other hand busy, carrying baggage or those odd stuffs? Have you ever spilled coffee on your phone or dropped your phone several times trying to pinch-zoom with one hand while sipping your drink with the other? Then the researchers at the University of Calgary just might have the right solution for your worries.
Six researchers at the University of Calgary have developed a software technique, properly named 'Fat Thumb', which will help you to carry out multi-touch operations with a single hand or finger. For example, multi-touch activities like pinch to zoom can be triggered by varying the thumb's contact area on the screen as opposed to the customary two-finger pinch. In other words, you can pinch-zoom with just your thumb, by applying more pressure on the screen than for the usual single touch so that the area of contact between your finger and the screen increases (becomes "fat"). See the video below for a quick demo:
The research is currently limited to research papers and to some tests with an iPhone. Hopefully in the near future this research will lead to more seamless interaction with our devices than what we experience already.
As a side note, talking about iPhone, let us hope that this technology wouldn't get to be one of those 'patents' which companies will use to sue each other in the future; so that this feature comes to all the devices regardless of make or model.
[via Engadget]
Related Posts