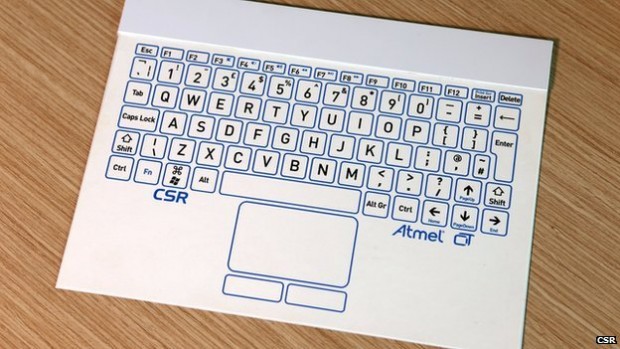 If it's not thin, it's not worth using; that's the modern tech age for you. Recently the at IFA consumer electronics event in Berlin, Cambridge-based CSR highlighted the world's thinnest keyboard to the public. The device comes packed with a wireless touchscreen, and is expected to be around half a millimeter thick once it hits production. Impressed? Well, if you like these sort of things, you should be.
CSR is well known as the company behind the technology found in Nike Running gadgets and Beats headphones. Well, it is highly likely you never knew that before now, I mean, who really cares which company is behind a certain piece of technology found in a consumer product these days.
The final form factor of this thin piece of magic may differ when it finally comes to market, according to Paul Williamson, CSR's director of low power wireless products. The target use for such a thin and lightweight keyboard is to complement a tablet or any other form of mobile device.
"We might see lots of shapes and sizes, some as small as iPad Mini or a larger, more rigid form for a desktop PC, which could be curved, in any colour way, transparent or fitted with a leather folio."
We're not certain if we're sold on this keyboard just yet. For comfortable typing, a keyboard needs just the right amount of heft along with raise keys. What CSR is showing off doesn't seem to meet that criteria, but then again, the final product might just blow our minds to smitherines.
Related Posts