Today's Software
WinMend Auto Shutdown: automatically shut down/sleep/hibernate/log off your computer
DriverView: get a handy list of Windows drivers
Greenshot: take screenshots with an incredibly configurable screenshot program
Subscribe to our Windows section to never miss an article: RSS Feed | E-mail
About Windows Software of the Day
Windows has hundreds of thousands of programs. Because of this great volume and lack of a central store, software discovery (aka finding new and useful programs) is extremely difficult. With our Windows Software of the Day initiative, dotTech aims to change that. Everyday we post three programs, allowing our readers to discover new software, daily. Enjoy! [Subscribe to our Windows section to never miss an article: RSS Feed | E-mail]
Developers: Click here to get your apps featured here!
dotTechies: Want to see an app on here? Send us a tip!
Software for July 8, 2012
WinMend Auto Shutdown
Are you constantly leaving your computer on overnight to finish a twenty minute task? You should make it automatically shut down after a short period. WinMend Auto Shutdown is great for the task.
WinMend does more than automatically shut down your computer. It can automatically shut down, hibernate, sleep, or even log off of your computer. And if you're constantly using your computer at odd hours, you can just use it to shut down your computer a given time from when you set it.
Want to only shut down your computer once? WinMend lets you shut it down on one date at a certain time, daily at a certain time, or just a certain time from whenever it's set. If you're looking for a pain-free auto power management tool, WinMend Auto Shutdown is a great program to check out.
Price: Free!
Version discovered: v1.3.1
Supported OS: Windows unknown
Download size: 2.0MB
VirusTotal malware scan results: 0/42
Portability: Requires installation
WinMend Auto Shutdown homepage
[via Gizmo's Freeware]
DriverView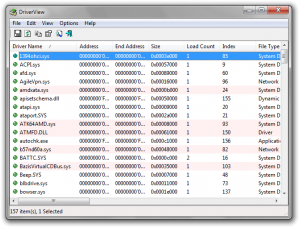 What's a bad driver do? If you're a long-time Windows user, you know well that a bad driver can bluescreen your computer faster than you can navigate to Uninstall a Program to get rid of it. However, drivers can also do shady things, such as accompany keyloggers and rootkits. You should know what drivers you're running!
DriverView is a tool for those who want to see their drivers laid out to dry. It gives you the filename, the memory address (for when you're feeling fancy), company name, version, a quick description, and much, much more.
All in all, if you're fairly technically minded, DriverView is a nice program to check out your installed drivers. Unfortunately, its matter of fact viewing style and lack of explanation make the tool much less useful for average computer users.
Price: Free!
Version discovered: v1.41
Supported OS: Windows NT+
Download size: 39-51KB
VirusTotal malware scan results: 32-bit: 1/42 | 64-bit: 1/41
Portability: No installation required!
[via Raymond.cc]
Greenshot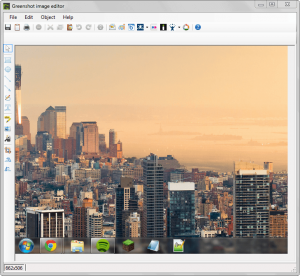 Want to take nice,  high-quality screenshots with plenty of upload options? Greenshot is the tool for the job. It's rather like previously-covered Shotty, but it offers more and higher-quality upload websites and a much more useful editor.
With Greenshot, you can upload to a multitude of websites. There's Box, Confluence, Flickr, Imgur, Jira, and Picasa support, and it can also automatically send photos to your Dropbox account. Uploading isn't the only thing Greenshot does, though: it can capture screenshots of regions, windows, or your entire screen. If you opt for windows, it actually features Aero border support, as shown in the screenshot to the right. I actually captured that with Greenshot! As you can see by comparing it to the screenshot of DriverView, it's not nearly as nice as Shotty, but it still gets the job done, and does it well.
Greenshot also lets you configure in advance. Rather than pulling a Shotty and requiring you to save an image each time, Greenshot lets you automatically save things, upload them, open them, or whatever else you need to have done with them. It's overall a great program, and comes very close to beating Shotty in my book.
Note: I tested Unstable 1.0.0-1929 as it supports several new features, including Windows Aero borders. Stable v0.8.0 is also available.
Price: Free!
Version discovered: Unstable v1.0.0-1929
Supported OS: Windows 
Download size: 323-545KB
VirusTotal malware scan results: 0/42
Portability: Portable version here!
Greenshot homepage | Unstable download
dotTechies: We have tested all the software listed above. However, Windows Software of the Day articles are not intended as "reviews" but rather as "heads-up" to help you discover new programs. Always use your best judgement when downloading programs, such as trying trial/free versions before purchasing shareware programs, if applicable.
Related Posts