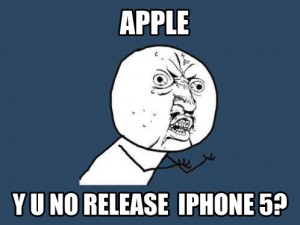 What will Apple's next iPhone, iPhone 5, comprise of? Quoting an unnamed trusted source, BGR 'confirms' the next iPhone will have 4G LTE, 1GB RAM, and built-in NFC.
The revelations, if you can call them that, by BGR aren't all too surprising. Looking at leading Android handsets, an iPhone 5 without LTE would be a major flop in countries with LTE networks; 1GB of RAM is the next logical progression from iPhone's current 512MB; and if Apple wants to be a part of the growing NFC-based payment platform, naturally the next iPhone will have NFC. As such, although these are technically rumors, it is highly likely BGR is correct on this one.
Another point that adds credibility to this report is the fact that the iPhone is due for a major refresh as per Apple's upgrade cycle (iPhone 3G -> iPhone 3GS -> iPhone 4 -> iPhone 4S -> iPhone 5). Plus Apple is also known to lag one year behind on upcoming mobile technologies, so as to drive down costs since components are cheaper when mass produced; so, predicting iPhone 5 will have LTE, 1GB RAM, and NFC is believable because Android has already helped lower the cost of these components as compared to last year.
Whatever the iPhone 5 turns out to be, one thing is clear. With increasing competition from Android, primarily Samsung and its Galaxy product line, Apple needs another major hit to sustain its astonishing growth. Feel free to share your thoughts with us in the comments below.
[via BGR | Image credit: JForth]
Related Posts