Giveaway of the day for May 20, 2009 is:
Version reviewed:
v1.2.1
Software description as per GOTD:
Corner-A ArtStudio is powerful animation software that can bring to life boring static images. ArtStudio has a lot of build-in filters, it has hardware acceleration support, various export possibilities and simple interface – you don't need to be an artist or designer to use ArtStudio. There are a lot of "screen-saver-makers" on the market, there are a lot of animation programs, but who else can give you extreme realtime perfomance with simplest interface?

Features:

All effect are hardware processed with video accelerator card.
Light and easy interface: all filters are simply drawn with mouse.
More than 20 built-in filters will help you to animate water, clouds, smoke and create other natural and abstract effects.
Result can be saved as screensaver (scr), standalone executable file (exe), flash animation (swf), gif animation (gif) or images sequence (bmp, jpg, or png).
No professional designer or artists skills required, almost everyone can animate favourite picture with ArtStudio.
————————-
Full Review (or lack thereof)
Installation went fine. Vista users needs to run Activate.exe and ArtStudio as Administrator. As for registration: I believe it registered just fine. I say this because when I ran ArtStudio without running "Activate.exe" it told me "no GOTD key was found" and it closed the program. However when I went back and ran "Activate.exe" as Administrator and then ran ArtStudio, the program ran just fine. While true under "Help" -> "License" it says "License file not found" I believe it is registered nonetheless (for me at least) because I do not get the "no GOTD key was found" message and ArtStudio does not close on me.
ArtStudio was last given out on February 10, 2009 as v1.1.2. Today's version is v1.2.1. I am unable to find a change log so I can't point out all the changes. However I did notice v1.2.1 has two more "filters":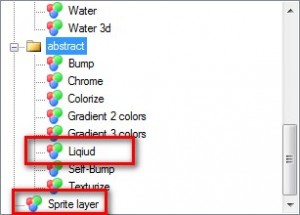 "Liquid" is "liquid surface emulation". The "settings" of a "liquid" filter are: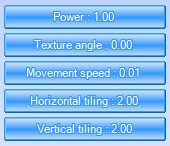 Here is a short video example of the "Liquid" filter:
[flashvideo file="http://dottech.org/rups/artstudio/ArtStudioLiquidExample.flv" /]
"Sprite layer" is just adding a GIF, PNG, JPG/JPEG or BMP image on top of the image you have loaded already. One thing to note though: when browsing your computer to select an image for your "sprite layer" the default file type ArtStudio is set to look for is .GIF:

Just change it to "All Images" if the image you need is not a .GIF: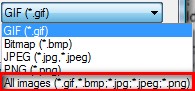 Apparently the .GIF can be animated gifs (as per the developer… see below).
Other than the two new filters, I have yet to notice any other changes. Therefore, the review on ArtStudio v1.1.2 is still applicable – please read it for more info.
Update – I talked to the developer and he told me:
"1.2 comparing to 1.1 was improved in rendering system, there are new features in screensaver exports and – most valuable – there are sprite layers since 1.2. You can add GIF animation to the scene."
Here are examples of what this program can do (created by the developer):
[flashvideo file="http://corner-a.com/e107_files/ArtStudio/Samples/Flash/42_480x360.swf" /]
[flashvideo file="http://corner-a.com/e107_files/ArtStudio/Samples/Flash/Bird_480x360.swf" /]
[flashvideo file="http://corner-a.com/e107_files/ArtStudio/Samples/Flash/Serenity_480x360.swf" /]
[flashvideo file="http://corner-a.com/e107_files/ArtStudio/Samples/Flash/Boat_480x360.swf" /]
[flashvideo file="http://corner-a.com/e107_files/ArtStudio/Samples/Flash/helicopter_480x360.swf" /]
This review (or lack thereof) was conducted on a laptop running Windows Vista Home Premium 32-bit. The specs of the laptop are as follows: 3GB of RAM, a Radeon HD 2600 512MB graphics card, and an Intel T8300 2.4GHz Core 2 Duo processor.
Final Verdict
This. Program. Is. Amazing. I have never used a program before that allows you to do such easy point and click animations. Plus you can export into many different formats, including screensaver (you can make screensavers) or SWF flash video. Sure the effects are limited, but there are many effects that you can chose from. I like this program so much it got number 1 on my top ten giveaways list. Two thumbs up for this program – highly recommended.  Even if you don't think you need this program, download it anyway because it will probably come in handy later on! Lastly, in terms of videos, since you can only export to .AVI, .SWF and .EXE with ArtStudio, use FormatFactory to convert to other video types (such as WMV or FLV) after you export as AVI with ArtStudio if you need to.
Related Posts