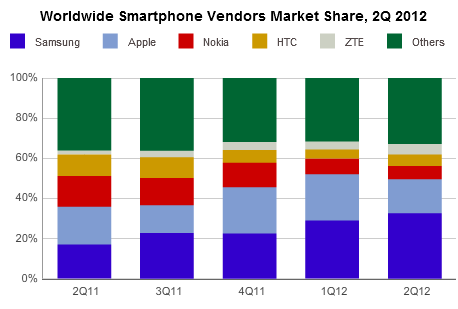 Earlier this month we learned Android comprises of roughly 50% of smartphone sales in Q2 2012; and, last year we learned Samsung is the new leader in smartphones, snatching the spot for #1 smartphone maker from Apple. So it shouldn't be very surprising when I tell you Apple and Samsung dominate smartphone sales, comprising of about 50% of all smartphones sold in Q2 2012.
According to the IDC (International Data Corporation), total mobile phone shipments increased in Q2 2012 (406.0 million units) versus Q2 2012 (401.8 million units). Of those 400+ million phones, 153.9 million were smartphones in Q2 2012 while the same time last year saw the shipment of 108.3 million smartphones. Clearly the smartphone market is grower faster than dumb/feature phones, although IDC is quick to point out that the smartphone market growth of 42.1% is the lowest growth rate in the market since Q4 2009.
The biggest winner this Q2 2012 is Samsung who saw its smartphone market share grow by a stunning 172.8% from 18.4 million units in Q2 2011 to 50.4 million units in Q2 2012. ZTE also did well, seeing its smartphone share grow by 300%; however, it only has a small portion of the market even if its growth was huge — 8 million units in Q2 2012 versus 2 million units in Q2 2011. Apple had a modest increase while Nokia and HTC both saw declines. Check out the two charts below for exact numbers. Take note the second chart is of total mobile phone shipments while the first chart is of smartphone shipments only.


It should be noted although Samsung creams Apple in smartphone sales, Apple continues to make more money than Samsung due to Apple's larger profit margins and less overhead costs. To put it in the perspective of the dollar, Apple made US$8.8 billion in profit in its most recent Q2 2012 whereas Samsung made US$5.9 billion in its most recent quarter even though Samsung had higher revenue (it sold more stuff).
[via IDC]
Related Posts