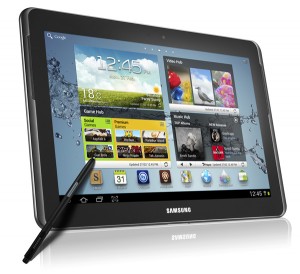 Only a few days after it's release, the Galaxy Note 10.1 was already rooted, and if you're the lucky owner of a Galaxy Note 10.1 GT-N8000, then we at dotTech have a guide for you.
Disclaimer: This guide is intended as a helpful "how to". dotTech and its writers are not responsible for any gain or loss (including but not limited to bricked devices) incurred as a result of following this guide. Root your device at your own risk. Rooting may void your warranty.
Before We Begin
You will need to download two files before you can start rooting:
Galaxy Note 10.1 Rooting Files. Extract these to a temporary folder on your computer (preferably a folder on the desktop for easy access).
If you don't have it already, Samsung USB Drivers for Windows. Install these drivers on your PC.
How To Root Galaxy Note 10.1
This guide should work for the GT-N8000 model. This method increases the Binary count, which will show your carrier that your phone's OS has been modified. Follow these steps to root your Galaxy Note 10.1:
Connect your Galaxy Note to your computer, make sure you have more then 60% battery charge left to avoid complications.
From the Rooting Files, copy the  "CWM-SuperSU-v0.94.zip" onto your phone's memory. Keep everything connected.
On your Galaxy Note, hold down the POWER and the VOLUME DOWN button at once. Keep these two buttons pressed till a warning pops on your screen.
The warning is about the risk you take when installing your own OS to the device, but you can continue to by pressing VOLUME UP. Now the screen will say 'Downloading'.
Now let's turn back to the PC, and start the odin3 v1.85.exe program. in the screen that pops up, you should see a yellow cell saying something similar to '0:[COM24]'. If this is not the case, you probably did not install the USB Drivers right: Try reinstalling them, unplug and plug your phone again and see if that helped. Otherwise, try a different USB Port, or disable Samsung Kies, if it's running.
Now, click the "PDA" button in odin v1.85 (Note: Do not use PHONE or anything else then PDA!).
A screen will pop up to look for a file, go to wherever you extracted the rooting files and double-click  "HighOnAndroidCWMRecoveryGTN8000.tar".
Hit the "Start" button in odin v1.85, and if all goes well, you should soon see a green PASS! on the screen. While your Galaxy Note 10.1 will reboot. After this, it's safe to disconnect the phone from the computer.
Once your Galaxy Note has rebooted, hold down the POWER button and the VOLUME UP Button.
Until the Samsung Logo shows, then release the POWER, but keep pressing that VOLUME UP, until you enter a new menu.
This menu is controlled using the VOLUME buttons to scroll trough, though you can touch the screen to select things. Press "install zip from sdcard" and then "choose zip from sdcard" (unless you copied it to the external SD card, then select the  "choose zip from external sdcard"  option.)
Now using the VOLUME buttons scroll down to the "CWM-SuperSU-v0.94.zip" file that you placed there before, select it by pressing the POWER button. Next you scroll up to "yes" to confirm. You should now see the green android mascot as it installs. If no errors occur, congratulations. The rooting itself happened right there!
Now you'll get into the menu once again, simply press "go back" and then "reboot system now".
Conclusion
Enjoy your now rooted Samsung Galaxy Note 10.1. Now you can do things such as block ads, deny apps Internet access or just look around in your systems files. Be careful not to break anything though!
[via Root Galaxy Note]
Related Posts