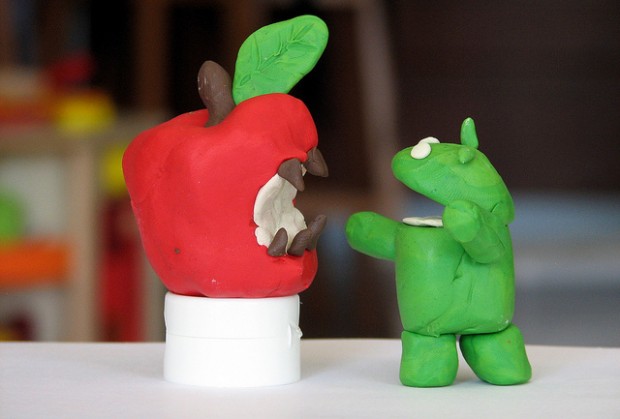 Apple sued Samsung in the United States for violating a variety of utility patents, design patents, and trade dress(es). The court room battle, which was presided over by Judge Lucy Haeran Koh in the United States District Court for the Northern District of California, saw many allegations flung back and forth between Apple and Samsung: Samsung accused Apple of copying Sony; Apple claimed Samsung was warned by others to not copy iDevices; Samsung claimed to be working on iPhone-like devices before the iPhone; Apple claimed customers were mistakenly buying Galaxy Tabs instead of the iPad; etc. All that mud slinging is meaningless now because the Apple v Samsung fight in California has come to an end (a pre-appeal end, anyway). The jury has reached a verdict. The 20-page verdict has been read. Samsung has been found guilty.
Although it wasn't a clean sweep for Apple, the jury found Samsung overwhelmingly guilty of violating Apple intellectual property. Apple accused Samsung of violating Apple utility and design patents, and infringing on Apple trade dress with roughly 30 Samsung devices, the most notable being the Galaxy Tab 10.1, Samsung Galaxy S (and variants), and Samsung Galaxy S II (and variants). This case was filed before Samsung Galaxy S III was released so the Galaxy S III was not part of this particular lawsuit.Apple also accused Samsung of diluting iDevice trade dress plus accused Samsung of abusing its obligations under FRAND patents and violating Sherman anti-trust laws. In total Apple looked for $2.85 billion in damages from Samsung.
In response, Samsung counter-sued and said Apple violated Samsung utility patents; Samsung asked for roughly $400 million in damages.
The jury deliberated on the case for a shockingly short 21 hours before coming back with a verdict. According to this verdict:
All Apple patents featured in this case are declared to be valid.
Apple's registered trade dress is valid.
Most, but not all, of Samsung's accused devices violated Apple's design and utility patents.
Samsung 'willfully' infringed on 5 out of 6 Apple patents.
Samsung 'diluted' Apple's registered and unregistered trade dress for iDevices.
Samsung violated Sherman anti-trust laws by "monopolizing one or more technology markets related to the UMTS standard".
Apple is not guilty of infringing on Samsung patents.
Samsung must pay Apple a grand total of $1.05 billion in damages.
Wow. What a big huge ginormous for Apple. Of course Samsung will appeal and could have this verdict overturned. For now, however, Apple has won the battle and what an important victory it is indeed. While this victory is confined to the borders of the United States (Apple vs Samsung is still going on in other parts of the world and may very well conclude to a different verdict), this is still a significant win by Apple. It isn't so much that Samsung cannot afford to pay the $1.05 billion in damages; after all, Samsung made roughly $6 billion in profit last quarter. Rather, the future repercussions of this Apple victory is what is really going to hurt Samsung (and Android). What exactly will happen next? Only time will tell but Apple is likely going to run rough-shot over Android in the United States for some time to come. Without a doubt Apple will look for sales bans on Samsung devices found guilty in this case and will likely try to use this verdict as a push to ban newer Samsung devices that weren't named in this particular case, namely the Galaxy S III. If you were planning on grabbing a Samsung device in the near future, it is best that you do it now before it is pulled from the shelves.
Related Posts