One of the few things I like about the Windows right click context menu is the "Send To" sub menu. Via this sub menu one can easily send files and folders to desired locations (folders, drives, etc.) or desired programs with a simple click. However what I don't like is how easy it is for this menu to get cluttered; what I don't like is how hard it is for someone to edit and customize this menu. This is where Send To Toys comes in: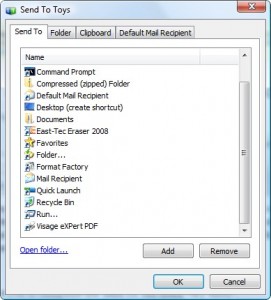 Send To Toys is a simple program that allows you to customize the "Send To" sub menu very easily. You simply "Add" or "Remove" locations (folders, drives, etc.) or programs (Command Prompt, East-Tec Eraser, etc.) at will. For example, I went from…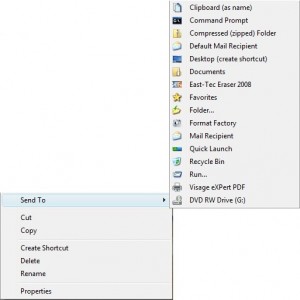 …to…

…in a matter of seconds. Yes it is truly that easy.
Before I give you the download link for Send To Toys there are two things to note:
During installation you will be prompted to add many entries to the "Send To" menu: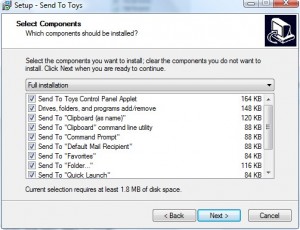 All of these entries can be manually removed latter but they cannot be added back once removed (you would have to run the installer again).
If you are trying to send a file via the "Send To" menu to another location, as in move the file, you need to hold down the SHIFT key; otherwise just a shortcut will be created instead of actually moving the file.
All in all I find Send To Toys to be one of those simple yet very useful applications. You can download Send To Toys from the following link:
***Send To Toys works on Windows 2000, XP, 2003, and Vista.

***For non-English versions of Send To Toys, please visit the developers website.
Related Posts