Update: This promotion is now dead!
It has been a while since I have posted about a freebie (mostly because I have not been here). Time to make up for that. Today I am here to tell you about how to attain excellent program, that goes by the name of Corel Paint Shop Pro X, for free: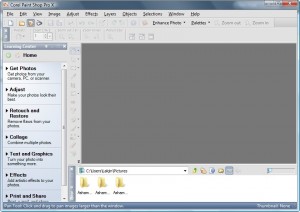 So before I spill the beans on from where to get this software, let me highlight a few features of Corel Paint Shop Pro X:
One-Step Photo Fix. With just one click, the One-Step Photo Fix command automatically adjusts the color balance, contrast, clarity, and saturation of an image. It also sharpens the image.
Background Eraser. The Background Eraser tool lets you easily erase unwanted backgrounds while retaining the fine detail in your photos. It's a perfect first step before copying and pasting elements from one photo into another.
Raw file format support. Paint Shop Pro X continues to support the Camera Raw file format. You can open, enhance, process, and convert images that were saved on your digital camera in the Raw file format.
Picture Tubes™. A longtime favorite, the Picture Tube tool lets you paint on your photo with a collection of professionally-designed artistic elements. For example, you can add butterflies and beetles to a picnic setting, fill an aquarium with fish, or frame a picture with holly. Picture Tubes are available in a variety of themes, including Animals, Artistic, Embellishments, Nature, Photo Objects, and Plants and Leaves. You can also create your own picture tubes.
Scripting. A Paint Shop Pro powerhouse, scripting can save you tremendous amounts of time, especially when you are working with batches of images. You simply record a series of commands and then play them back to process an image or batch of images.
Batch Processing. You can easily process batches of images with Paint Shop Pro. The Batch Process command lets you use scripts to apply fixes to batches of images, and you can also convert batches of images to a different file format.
Lens Correction filters. Paint Shop Pro continues to provide excellent Lens Correction filters that help you correct common photo distortions, such as fish-eye, barrel, and pincushion.
Perspective Correction tool. With this tool, you can easily fix buildings, landmarks, or other objects that appear to be leaning away from you in photos taken at an upward angle.
Straighten tool. This tool lets you quickly align crooked photos by just pointing out a line that should be horizontal or vertical but isn't.
Scratch Remover. The Scratch Remover tool instantly removes scratches, wires, and other linear flaws from photos. This tool is particularly useful for removing scratches or cracks when restoring old photos, and is also an incredible tool for reducing face wrinkles in photos.
Clone tool. The Clone tool lets you cover flaws in your photos by copying detail from a neighboring area. You simply choose a source location and then draw over the flawed area of the image. This replaces the flaw with detail from the source location.
Motion Blur. You can add Motion Blur to a photo to create the illusion that the photo was taken while the subject was in motion.
Distort photos. The Warp Brush lets you create caricatures of your subjects by distorting pixels in a particular area of the photo.
As I said, that is just a few features of Corel Paint Shop Pro X – it really doesn't do justice to the program. If you would like to learn more, you are welcome to read the excellent review on it written by Photo-i.
Now this definitely isn't the latest Corel Paint Shop Pro X2 Ultimate edition (that one will cost you around $80 or $67 if you are upgrading – click here to read about the differences in features between all the editions) but this is still an excellent program worth having if you need this sort of thing.
You can download Corel Paint Shop Pro X from the following link:
***Corel Paint Shop Pro X System Requirements:
500-MHz processor
Windows® 2000 (SP4) or Windows XP (it works fine on Windows Vista also)

256 MB of RAM
500 MB of free hard-drive space
1024 x 768 resolution display, 16-bit color
Macromedia Flash™ Player 7 (included)
[via V3.co.uk]
Thanks to Peter for informing dotTech about this freebie!
Related Posts