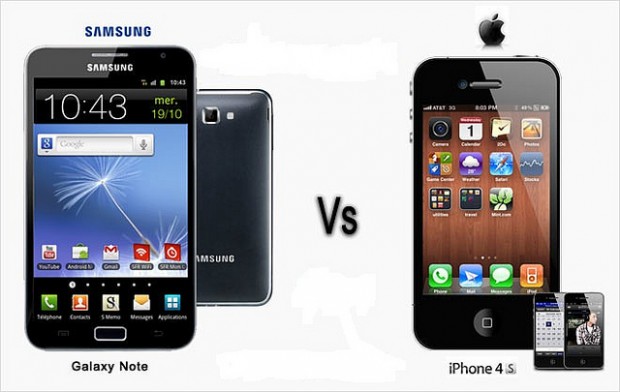 Apple has been attacking Samsung on multiple fronts in the United States. The most publicized of these battles is the Apple v Samsung case that concluded last week, ended with Samsung having to pay Apple $1.05 billion, and served as an impetus for Apple to seek bans on eight Samsung devices. Another open — but not as hyped — front in the war between Apple and Samsung is Apple's attack on the Galaxy Nexus, the current flagship Android device.
Back in February 2012, Apple filed a lawsuit in California asserting seventeen Samsung devices infringed on eight Apple utility patents. It is key to note this Feb 2012 lawsuit, while related to the recently concluded Apple v Samsung trial, is a completely separate case. While the two cases do have overlapping devices, the two lawsuits are not the same. In this Feb 2012 complaint, Apple says the following Samsung devices…
Galaxy S II Skyrocket
Galaxy S II Epic 4G Touch
Galaxy S II
Galaxy S II (T-Mobile)
Galaxy S II (AT&T)
Galaxy Nexus
Illusion
Captivate Glide
Exhibit II 4G
Stratosphere
Transform Ultra
Admire, Conquer 4G
Dart
Galaxy Player 4.0
Galaxy Player 5.0
Galaxy Tab 7.0 Plus
Galaxy Tab 8.9
…infringe on the following eight patents:
'647 patent (System and method for performing an action on a structure in computer-generated data)
'959 patent (Universal interface for retrieval of information in a computer system)
'721 patent (Unlocking a device by performing gestures on an unlock image)
'172 patent (Method, system, and graphical user interface for providing word recommendations)
'760 patent (Missed telephone call management for a portable multifunction device)
'502 patent (Graphical user interface using historical lists with field classes)
'414 patent (Asynchronous data synchronization amongst devices)
'604 patent (Universal interface for retrieval of information in a computer system)
While there are seventeen devices involved, this lawsuit was primarily viewed as an attack by Apple on Galaxy Nexus, the Android device that is built by Samsung but programmed exclusively by Google.
Apple has now amended this Feb 2012 lawsuit to include four more Samsung devices:
Galaxy S III
Galaxy S III (Verizon)
Galaxy Note
Galaxy Note 10.1
It is unclear if the Galaxy S III complaint includes T-Mobile, AT&T, and Sprint variants — it probably does.
Any one familiar with Android knows Galaxy S III and Galaxy Note are two big huge sellers for Samsung. The Galaxy S III holds the honor of being the most per-ordered device in the history of smartphones (yeas, it was per-ordered more than any iPhone to date) and has sold over ten million units within two months of release. The Galaxy Note, although not as hot as the S3, has also sold over ten million units since its release last year. Galaxy S III also happens to be Samsung's current flagship device, released globally in May and in the USA in June. An injunction on eight "last year's" models may not hurt Samsung very much but if Apple is successful in getting an injunction against the Galaxy S III… Samsung might crash and burn.
Of course, there is no guarantee Apple will win this lawsuit. Apple will have to convince a jury the above-mentioned twenty-one Samsung devices infringed on the above-mentioned Apple patents and then convince a judge that Apple has suffered irreparable harm in order to be granted an injunction. Apple may have one won lawsuit but that doesn't guarantee another win. It should be mentioned, however, that Apple was able to enforce the '647 patent against HTC in the ITC and got an injunction on the Galaxy Nexus for the '604 patent before Samsung was awarded a stay. So Apple has some precedent to draw upon. Still, this is no way a surety for Apple.
For those of you wondering "these new Samsung devices look nothing like an iPhone or iPad — how can Apple go after them": in this Feb 2012 filing Apple is not going after Samsung devices for design patents or trade dress — it is going after utility patents. In other words, in this particular lawsuit Apple is not accusing the twenty-one Samsung devices of ripping of iPhone's or iPad's hardware or physical design; Apple is accusing the twenty-one Samsung devices of ripping off iPhone's and iPad's software design/functionality. So how the devices physically look is legally irrelevant.
That said, while the physical look of designs may be legally irrelevant, the jury is going to be filled with regular human beings. I have no doubt in my mind one of the reasons why Samsung lost the just-concluded lawsuit is because some of its earlier models did indeed look physically very much like iDevices. The fact that newer Samsung devices do not emulate Apple products will definitely help Samsung in convincing the jury that it did not steal from Apple. Let's see what happens.
[via Apple Insider | Image via sidduz]
Related Posts