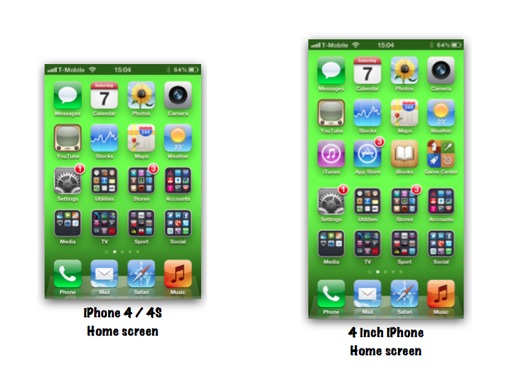 If rumors and leaks are to be believed, iPhone 5 will be unveiled on September 12, 2012 with a 4 inch screen. Seeing as the iPhone has always had a 3.5 incher, this can be considered a huge change from the past. Ever wonder how this change will affect the "iPhone experience"? Well until Apple officially unveils the iP5, it is hard to know. However, that doesn't mean people can't speculate.
MacRumors commissioned a video to illustrate how the 4 inch iPhone 5 may play compared to the 3.5 inch iPhone 4S. Among other things, the video speculates iPhone 5 will have a 1136×640 resolution display (which is simply the resolution of iPhone 4S's 3.5 inch display expanded to 4 inch at a 16:9 aspect ratio) and a five-row homescreen verses the current four-row. The video also believes older apps, that don't update to take advantage of the extra real estate, will be run "letter boxed" (i.e. only use up part of the screen) while updated/newer apps will be able to run at full screen. Check it out for yourself:
You must keep in mind the above is not an official video by Apple; this video is just what some Apple fans think how the iPhone 5, with its 4 inch screen, will be. Still, what the video proposes is very very plausible assuming the iPhone 5 4 inch screen rumor is accurate.
[via MacRumors, image via Mashable]
Related Posts