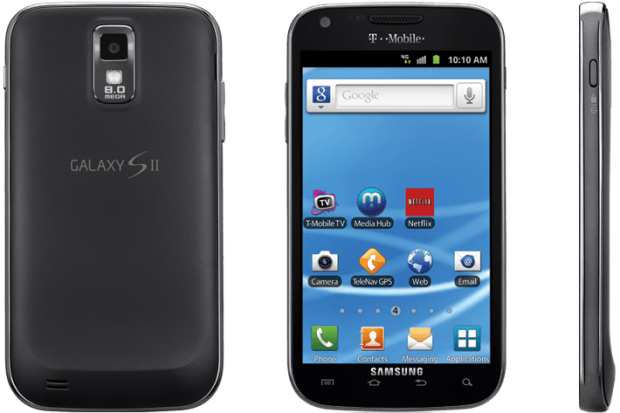 Looking for an excellent Android handset but don't want to sign a two-year contract with a telecom or break the bank purchasing an unlocked device at $500+? Well there is always the $349 unlocked Galaxy Nexus you can purchase. If the Galaxy Nexus doesn't do it for you, Wal-Mart and T-Mobile are giving you another option: Samsung Galaxy S II.
Wal-Mart is now selling the T-Mobile version of the 16GB Galaxy S II for $299. The best part? You don't have to sign a two-year contract meaning you can purchase the device and make no commitment to monthly data plans (or any other contractually obligated monthly plans). The caveat? The $299 T-Mobile Galaxy S II from Wal-Mart comes with a mandatory $30 T-Mobile Pre-Paid card meaning you will actually be shelling out $329 (plus tax) for the device plus $30 pre-paid card. If you are a T-Mobile pre-paid customer then this is no big deal for you; if you aren't, you can attempt to recuperate some of that $30 back by offloading the pre-paid card on a friend or online marketplaces like eBay. It is important to note you don't have to use T-Mobile pre-paid after purchasing this Galaxy S II if you don't want to.
For what it is worth, T-Mobile's $30 pre-paid plan offers unlimited data (up to 5GB at "4G" speeds while the remaining is at 3G), unlimited text, and 100 minutes a month. So if you are a data fiend, you may decide to keep that $30 pre-paid card and start using T-Mobile. Also, keep in mind T-Mobile's Galaxy S II is a GSM device so it won't work on Sprint or Verizon, and it likely is locked so you will need to manually unlock it if you want to use it on AT&T or any other GSM network other than T-Mobile. Take note if you use this device on any GSM network other than T-Mobile, such as AT&T, you likely won't get 4G or 3G (you will only get 2G).
For those that don't remember, Galaxy S II is Samsung's acclaimed flagship device of 2011. Specs of T-Mobile's version of the Galaxy S II are as follows: 4.52 inch 480×800 Super AMOLED Plus screen, 1.5GHz dual-core Snapdragon processor with Adreno 220 GPU, 16GB/32GB of internal memory with support for up to 32GB microSD card (8GB card is included), 1GB RAM, 2MP front camera, 8MP back camera with flash, and Android 4.0.3 (Ice Cream Sandwich). So while Galaxy S II may be "last year's model" it is still a beast of a device.
[via Engadget]
Related Posts