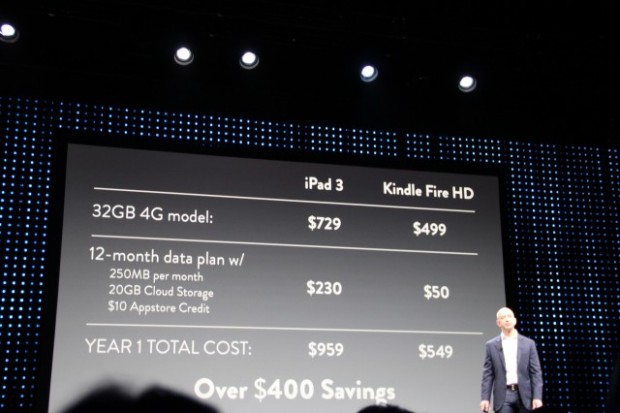 Jeff Bezos wants you to know exactly how much money you will be saving by buying his LTE tablet over Apple's. The carrot Bezos is dangling over your head? "Over $400."
According to a calculation Amazon has put together, you will be saving $410 during the first year if you purchase the 8.9-inch Amazon Kindle Fire HD LTE over the new iPad LTE. If you keep the device for another year, you will save another $180 over the course of twelve months. How does Amazon come up with these numbers? Simple.
Amazon's 8.9-inch Kindle Fire HD LTE (seriously Amazon, can you pick a shorter name next time?) comes in 32GB and 64GB versions with the 32GB costing $499. With this $499 price tag you get free 20GB cloud storage, $10 Amazon Appstore credit, and the option to purchase 250MB of 4G data every month for $50 a year. So, to compare apples to apples (yes, pun intended) Amazon took the 32GB new iPad LTE, added on the cost of monthly 250MB data you would pay if you purchased an iPad, added on the cost of 20GB cloud storage, and the cost of $10 Apple App Store gift card. That brought Amazon to conclude you would save $410 by going with their tab instead of Apple's.
Not surprisingly, Amazon is making some assumptions in their proclamation, such as adding on the cost of 20GB cloud storage per month — some users of the iPad may not necessarily purchase that — and assuming users will be content with 250MB data monthly (overages will cost you; you have the option to purchase more bandwidth). However, even if you just compare the price of the two tabs without the extras, the 32GB 8.9-inch Kindle Fire HD LTE costs $230 less than the 32GB new iPad. If you factor in the fact that you will pay sales tax when purchasing the new iPad and may not pay sales tax when purchasing the Kindle Fire HD LTE from Amazon (depending on where you live), that savings jumps close to $300. Of course these savings could potentially be negated by high iPad resale values… but we won't go there, for now.
Now, it could be said the iPad and Kindle Fire HD are not comparable tablets because iPad has XXX while Kindle Fire HD has XXX. However, it is hard to deny you will be saving a good chunk of money if you opt for the 8.9 Kindle Fire HD over the iPad (assuming you don't care about resale values). After all, that is what Amazon intended for this tablet to do — challenge Apple.
[via AllThingsD]
Related Posts