I am sure many of you have read my post on 7 free software to image/backup/ghost your computer (free alternatives to Acronis True Image, Norton Ghost, etc.). For those that have not, you really should. In my post I explained the difference between file backup and image backup software (keep in mind the differences between the two type of backup software are quickly becoming "gray" instead of black and white as developers continue to add new features to their programs… features that may or may not venture into non-native territories if you get what I mean) and also pointed out which image backup software, in my opinion, was the best freeware one out there (at the time of that post).
Well recently EASEUS, the developer of the famous (and freeware) EASEUS Partition Manager software, released a freeware image backup software that goes by the name of EASEUS Todo Backup: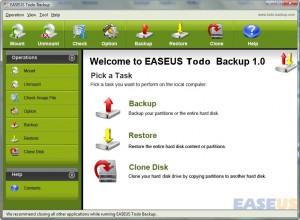 At first when I found out about this software I thought "great… just another backup software". However when I looked more into it, the software impressed me a fair bit with all its features. In fact it impressed me so much that it may end up challenging Macrium Reflect Free for the throne of best freeware image backup software. D-d-d-d-d-d-d-duel!
To start off with the obvious, Todo Backup has a really nice interface – very aesthetically pleasing – and yet uses minimal computer resources while running (sitting idle). Beneath the beautiful exterior lie handy features that make this software an excellent weapon of choice if you ever have the need for a freeware image backup software: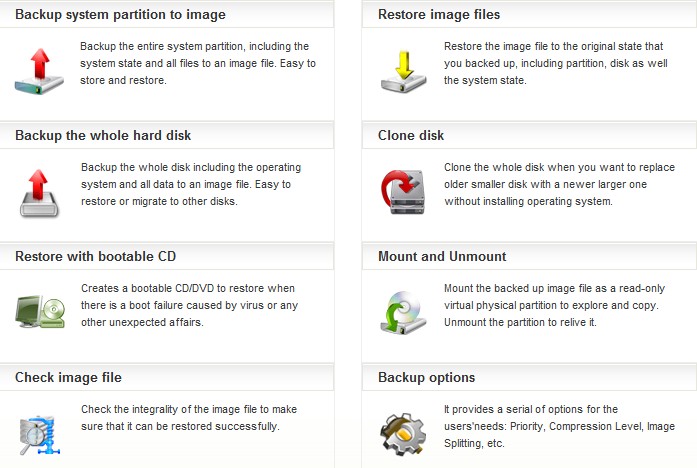 Besides the obvious image backup and restore features (and everything related to them such as compression of backup images, encryption, etc.) of this software, I would like to point out Todo Backup allows you to
Migrate from a smaller to a bigger hard drive via the "Clone Disk" feature;
Actively view and copy individual files from backups.
Come on you gotta admit: for a freeware utility, Todo Backup has very nice features.
As for the performance of this software, it does not hog an unfair amount of computer resources (idle, backing up, restoring, etc.), it works fairly fast (backing up, restoring, etc.), and compression is done at a good rate.
In terms of Macrium Reflect Free vs EASEUS Todo Backup, my preliminary findings suggests there is no clear winner (as of yet – inshAllah I plan on making a more detailed Macrium vs EASEUS post with concrete data/numbers in a few days when I get my hands on some extra hard drive space). Sometimes EASEUS creates a backup faster, sometimes Macrium does. Sometimes EASEUS has better compression, sometimes Macrium does. The only real concrete pro/con I can give right now is EASEUS has a better looking interface. However, these are only "preliminary" findings so don't hold me to them. As I said I plan a more in depth and accurate comparison soon. My point is it is truly a toss up, in my opinion, between Macrium and EASEUS as to which is the king of freeware image backup software. Update: After using EASEUS Todo Backup a little, I have come to the conclusion as of right now, Macrium Reflect Free is more of a mature program in general. However EASEUS Todo Backup can restore images to different hard drives while Macrium Reflect Free cannot (yet).
Now for all the sha-bang of Todo Backup, there are two things I find very annoying:
When creating a backup, after you select where you want to save the image, the "Next" button is grayed out. It is kind of confusing what you must do to make the "Next" button clickable. You need to physically type in a name of the backup at the end of the save file path thingy. Confusing I know.
Todo Backup does not give you any sort of estimate on what the size of your end image file will be. I dislike that.
Also, since this is freeware and not shareware/paid-ware, it is missing out on some features, like different methods of backup or automatic backups, that you would find in commercial software such as Acronis True Image. But in the end, all things considered, EASEUS Todo Backup is one fine piece of work. Well worth your time if you need something of the kind.
You can download EASEUS Todo Backup from the following link:
EASEUS Todo Backup works on Windows 2000/2003/XP/Vista/2008
P.S. Just as a point of hubris, I did a little digging and it seems dotTech is the first major technology blog/website (besides file hosting websites) that is bringing light to EASEUS Todo Backup. Woot! Thanks Peter!
Related Posts