Some of us may have relatives in other parts of the other world while others have business contacts. Yet others have friends while others just online acquaintances. The fact is with globalization occurring at a stunning pace and the internet spreading even faster, nowadays we are in contact with people from all around the world on a regular basis. I don't know about you but one problem I always seem to be facing when it comes to interacting with people from other places in the world is the time difference. For the life of me I can never accurately figure out what time it is in other parts of the world in an efficient manner. This is why Qlock is so useful.
Qlock is a very simple world clock software which allows you to display the current time of over 500 cities from all around the world right on your desktop. The best part of Qlock is that you are not limited to just one city time at a time – you can show times from as many cities as you need at a time:

In addition to being able to show the time from as many cities as you want, you can resize, move around, and change the color of the time block for each individual city: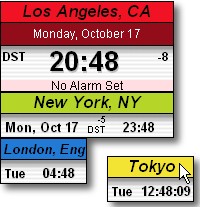 This image was borrowed from Qlock.com
Each time block easily snaps together to the next so it is very easy to align them all together. If you prefer a 24 hour clock over a 12 hour clock (or vice versa) you have the option to select either.
Qlock is very easy to use and light on resources to boot. A simple right click on the system try icon or a time block opens up access to Qlock options…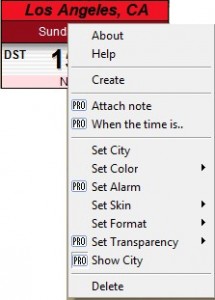 …and with one time block (one city time) Qlock uses less than 4 MB of RAM and adds about 200 KB for every extra time block (city time) added.
Of course Qlock Free is limited in functionality as compared to the Pro ($14) or Gold ($85) versions so you won't get features such as alarm, notes, etc. but still Qlock is still very handy if you need to know the current time from cities around the world on a regular basis.
You can download Qlock from the following download link:
Related Posts