Software Description
The following is a description of CyberLink MediaShow 5, as per the developer:
CyberLink MediaShow 5 is a fast and easy way to preserve and share your life's best moments. One-click fixes, photo slideshow, face tagging, uploading to Facebook and express video conversion, are just some of the convenient features available for organizing and sharing your photos and videos.

One-Click Fixes

MediaShow provides a range of tools to enhance your photos, photo slideshow, and videos with just one click. Impress your friends by making sure your photos, photo slideshow, and videos always look their best.

Memorable Slideshows

Combine video with your photo slideshow. New animated text and transition effects, plus easy-to-apply templates, let you combine photos and videos to create unforgettable slideshows in minutes.

Smart Face Tagging

Offering fast face detection with support for DirectX 11 DirectCompute, MediaShow 5 organizes photos by people. FaceMe™ technology identifies faces so you can tag your collection in a faster and smarter way. Photo Face Tagging has never been so useful!

Automatic Sorting

Automatic grouping of photos plus smart suggestions for tagging make it fast and easy to organize photos. MediaShow automatically organizes your photos and videos by date, too.

Speedy Video Conversion

Video conversion up to 10X faster, by leveraging the full power of your CPU and graphics processor. MediaShow is optimized for 2010 Intel Core Family Processors, NVIDIA CUDA, and ATI Stream technology.

Easy Video Editing

MediaShow provides easy tools for editing videos. Choose from one of 12 templates to create a video theme, featuring music and effects, or manually trim your clip down to size in just a few clicks.

Ways to Share Online

Explore new ways to share your memories online. Upload tagged photos directly to Facebook. Add to your image collection on Flickr. Broadcast yourself via YouTube.

Memories for Keeps

Burn a disc of your favorite video or photo slideshow to play on your DVD player. Add a navigation menu from your built-in library or download heaps more styles from DirectorZone.com.

Media On the Go

Output your photos, photo slideshow and videos to mobile devices like an iPhone, iPod, PSP or Zune. Pre-set profiles eliminate the need for any complex settings.
dotTech Advice
The first thing that jumped out at me about CyberLink MediaShow 5 is the interface. The interface – which is originally in black but can be changed to different colors – is very well designed, specifically the transitions and animations. I don't know if CyberLink hired a new UI designer or what but it seems like their latest batch of products have vastly improved interfaces.
That said, CyberLink MediaShow 5 is a complex program who's features can be broken down into four categories: Photo management, video management, burning photos/videos to disc, and video converter.
Photo management indexes the image files on your computer (it looks for images in the My Pictures folder first but you can tell it other specific locations). Once photos have been imported you can organize them into albums; tag them; tag faces using CyberLink's facial recognition algorithm (which by the way, is fairly good); edit them (crop, red eye, straighten, brightness, contrast, balance, lighting, saturation, sharpness); apply filters (black and white, sepia, matte, vignette, soft focus, focal B&W, tint, glow, antique); rotate right or left; save them as JPG, BMP, or PNG; create slideshow (with customizable settings, such as transition effects); make a screen saver; make a movie; set as desktop wallpaper; print; order physical prints from CyberLink; share via Facebook, Flickr, and email; etc.
Video management is pretty much the same as photo management, except it is for videos. Videos on your computer are indexed (first in My Videos folder but you can tell MediaShow 5 to look elsewhere too) after which you have the ability to sort them into albums. Editing videos consists of things like fixing "shaky" video, auto fixing for light, and reducing audio/video noise; and adjusting brightness, contrast, saturation, and white balance; and trimming, rotating right or left. Videos can be tagged and videos can be shared via Facebook, Youtube, email, and iTunes.
Burn to disc allows users to create DVDs out of photos and videos with custom background sound. Users are allowed to select DVD menu templates, 10 of which come with MediaShow 5 with dozens more available for free download via DirectorZone. It appears the burning to disc feature is for DVDs only; there is no clear method for burning to CD-R/CD-RW instead of DVD nor does it look like this is even possible.
The video converter is pretty basic and behind the times. It outputs only as WMV, MPG (MPEG2), M2TS (MPEG4 AVC), and MP4; and electronic device support is limited to iPod, iPhone, PS3, Zune, and Xbox. There is also native Youtube support. There is no iPad support. Android support? Forget it. To make matters worse, the iPhone support is old and doesn't support the resolution of iPhone 4/4S. There are general video profiles you can use if your specific electronic device is not supported but the customizability of output videos is poor, with lack of control such as bitrate control and no "keep original resolution" option (there are predefined output resolutions you can select which range from 320×240 to 1920×1080 with variances for 16:9 and 4:3).
Overall, because of the complexity of the program, it is hard to make an authoritative judgement on MediaShow 5 in a short advice column. However, the general feeling I get about MediaShow 5 after using it is "jack of some trades but master of none". There is a little of everything in regards to its features but not enough of anything to make me say "yeah, wow, what a great program". My best suggestion is to look over the features list and decide if any of the feature attract you. Then download Mediashow 5 for yourself and make up your mind if you like it or not.
Freebie Details
CyberLink MediaShow 5 is being given away as a "thank you" present by CyberLink to all those who participate in the CyberLink PhotoDirector 3 Beta Program. What does it take to participate in the CyberLink PhotoDirector 3 Beta Program? Not that much actually. All you have to do is download CyberLink PhotoDirector 3 Beta, use it (for however long you want), and fill out a very short survey (takes about five minutes); then you are instantly e-mailed a download link and CD key for CyberLink MediaShow 5.
To make this freebie even easier to get, I happen to know that, if you don't want to, you don't have to download CyberLink PhotoDirector 3 Beta and use it. As long as you sign-up for the CyberLink PhotoDirector 3 Beta Program and submit the survey, you will get a free fully functioning copy CyberLink MediaShow 5. However, I must caution you against taking this path. No developer gives out freebies out of the kindness of their heart. In this case, CyberLink is giving away MediaShow 5 in return for feedback on PhotoDirector 3 Beta. If you don't download and use PhotoDirector 3 Beta, you won't be able to submit a fair and truthful survey; thus CyberLink won't get the feedback they are looking for. Not only is this unethical on your part but it also means CyberLink may reconsider if they want to do a similar freebie in the future. So if you do as they ask – which frankly isn't a lot – it will help ensure these types of freebies keep coming.
That said, if you decide to shortcut the path to MediaShow 5 that is your imperative; who am I to govern your life.
There is no information on how long this CyberLink PhotoDirector 3 Beta Program will be active so there is no way of knowing how long CyberLink MediaShow 5 is available as a freebie. There is also no information on if you can install/reinstall at a later date.
Since this freebie is different than typical freebies, I have broken the process of getting this freebie into Part 1 and Part 2. Part 1 is about how to sign up for the CyberLink PhotoDirector 3 Beta Program and download/evaluate PhotoDirector 3. Part 2 is about how to submit the survey and download and register CyberLink MediaShow 5. Even if you don't plan on downloading and evaluating PhotoDirector 3 Beta be sure to read Part 1 because it tells you how to sign-up for the Beta program, which is a requirement to get MediaShow 5.
To get CyberLink MediaShow 5 for free, do the following:
Version being given out for free: v5.1.2109pa
Free updates and technical support: Unknown
Supported OS: Windows XP SP2/Vista/Win7
DirectX 9 or higher is required
Download size: 244 MB (Cyber MediaShow 5) | 151 MB (PhotoDirector 3 Beta)
Part 1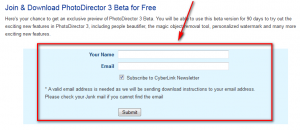 Check the inbox of the e-mail address you entered. Look for an e-mail from CyberLink no-reply@vipmail.cyberlink.com with subject of Download PhotoDirector 3 Beta Version. In the e-mail is the download link for PhotoDirector 3 Beta: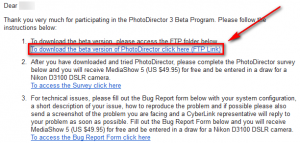 Click on the link to begin the download.
After the download has finished, run it. The download is actually of CyberLink Downloader not PhotoDirector 3 Beta, so it is only 457 KB. Once you run CyberLink Downloader, PhotoDirector Beta 3 begins to download: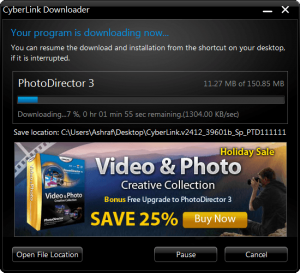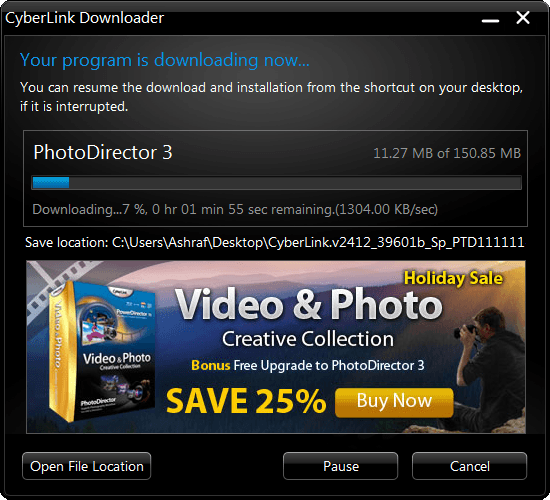 After the download of PhotoDirector 3 Beta finishes, install it: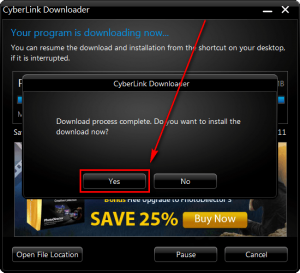 After installation, run PhotoDirector 3 Beta and play around with it. Remember you will need to fill out a (short) survey on your experience with PhotoDirector 3 Beta in order to get MediaShow 5 for free. (Alternatively, if you find a bug in PhotoDirector 3 Beta, you can report that bug in place of the survey and still get MediaShow 5 for free.)
Part 2

Make sure the e-mail address you entered when joining the PhotoDirector 3 Beta Program is the one entered in the box at the top that is labeled Please Enter Email Used to Download PhotoDirector 3 Beta.
When you are done with the survey hit the Submit button at the bottom.
After you submit the survey you will be redirected to MediaShow 5's homepage. Don't be alarmed by the price tag — it has nothing to do with the freebie. You can close this page.
Check the inbox of the e-mail address you entered with you joined the PhotoDirector 3 Beta Program . Look for an e-mail from CyberLink no-reply@vipmail.cyberlink.com with subject of Thank You for Participating in PhotoDirector 3 Beta- Download MediaShow 5. In the e-mail you will find the download link you need to use to download MediaShow 5 and CD key you need to use to register MediaShow 5: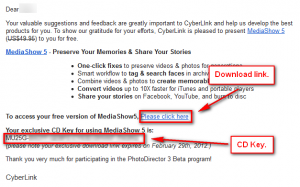 Download MediaShow 5 and copy the CD key.
After the download finishes, install MediaShow 5.
After installation, run MediaShow 5. Vista/Win7 users be sure to run as Administrator.
When you run MediaShow 5 you will be promoted to register it. Register it using the CD key you were provided via e-mail: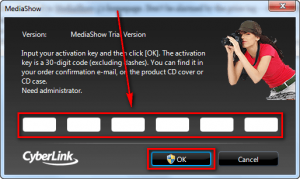 Enjoy!
Note: After hitting OK at the success message that popups after entering your CD key, you will be prompted with CyberLink Product Registration. This registration is not required; it is optional. If you don't want to fill it out, don't feel obliged to do so.
If you have trouble getting CyberLink Mediashow 5 for free, post below and other dotTechies or I will try to help.
Thanks acr!
Related Posts