Software Description
The following is a quick description of Backup4All Lite, as per the developer:
Backup4all Lite edition implements the basic functionalities of a backup application, thus more suitable for home users that don't need the advanced backup features Standard or Professional have. Main features that this edition has:

File filtering – powerful filtering engine with lots of options (filter by attribute, size, date, name and type)
Multiple backup job configurations
Intuitive interface – explorer-like, lets you see all files from the backup and new files that will be stored at the next backup execution
Backup open files (files in use) – uses the Volume Shadow Copy service that allows you to back up local open files from NTFS partitions in Windows XP/2003 Server/Vista/2008 Server
Default Predefined backups (My Documents, My Pictures, Outlook Express, Mozilla Firefox, Mozilla Thunderbird, IE Favorites, Backup4all configurations)
Backup summary/statistics
Backup plugins – possibility to import plugins as Predefined Backups
Mirror backup with individual file compression and encryption
Mirror backup that copies NTFS permissions and alternate streams
Backup and test operations can be paused/resumed/stopped
Automatic updates
Brief view and "Getting Started" window with shortcuts to main operations
Possibility to set memory usage for backing up
MSI setup for automatic deployment
Command line version
Schedule backups (using Windows scheduler)
dotTech Advice
Backup4All Lite is a good file-level (not system-level) backup software. It allows users to create backup jobs quickly and conduct backups very easily. The most impressive part about this program is its extensive plugin support, which allow users to conveniently backup the data from specific programs such as Firefox, Outlook, Internet Explorer, Thunderbird and much more.
I do find the "Lite" version to be a bit basic missing features such as encryption and different backup methods. However, the "Lite" version is a good stepping stone to get a feel for the program after which you can decide if you want to purchase the "Standard" or "Professional" version. For what it is worth, you can get 30% off the "Professional" version if you are interested in purchasing that.
If we were talking about Backup4All Professional I would recommend it in a heart-beat; "Professional" takes all the good aspects of "Lite" and adds in a lot more useful features, filling the gaps that "Lite" leaves behind. However, for Backup4All Lite my advice is if you don't have a file-level backup program already, give Backup4All Lite a try. It is better to have something rather than nothing. If you already have a file-level backup program you are happy with, there is no need to fix what ain't broke, if you get what I mean. Furthermore, if you are interested in Backup4All Standard or Backup4All Professional, I suggest you give Backup4All Lite a try so you can judge product quality before shelling out cash.
Freebie Details
Backup4All Lite is being given in a promotion sponsored by Softpedia. The promotion is live for 24-hours (there is no info on exact end time), so grab it while you still can. There is no information on if you can install/reinstall at a later date but based off my past experience with Backup4All Lite, you should be able to as long as you keep the installer and registration details safe.
To get Backup4All Lite for free, follow these simple directions:
Version being given out for free: v4.6 Build 259

Free updates: Yes, but minor updates only
Free technical support: Yes

Supported OS: Windows 2000/XP/Vista/Win7 and Windows Server 2000/2003/2008

Download size: About 21 MB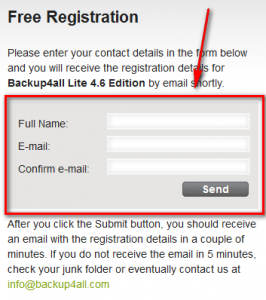 Please take note that by registering for this freebie you are automatically subscribing to Softland's "regular" newsletter. Unfortunately this is not something I can control and I do apologize for any inconvenience that this may cause. On the bright side, you can manually unsubscribe at any time by visiting the unsubscribe page.
Once you have registered, check your e-mail inbox for an e-mail from no-reply@backup4all.com with the subject of Backup4all Lite Registration Key. In the e-mail you will find the registration name and registration code you need to register Backup4All Lite with: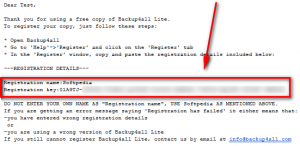 Keep this registration information safe because you will need it later.
Download and install Backup4All Lite.
After installation, run Backup4All Lite using the registration information you were provided earlier: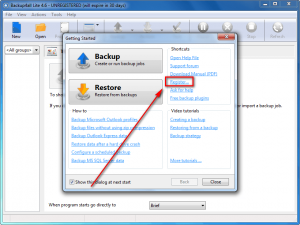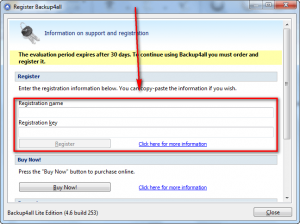 If you have any trouble getting this freebie, please post below and other dotTechies or I will try to help.
Thanks Giovanni!
Related Posts