I'm a writer. Whether I'm blogging or working on a non-fiction project, or busting my tail to get my November novel to 50,000 words in one month for National Novel Writing Month, it can't be denied that the written word is my home turf. As a result, on every piece of tech I own, I must – MUST – have a word processor. And on my iPad, I actually have two. However, it's the one I use the most that I want to talk about today.
Pages is a word processing application. It's interface is absolutely beautiful, and it has a very short learning curve if you've used any other type of word processor before.
One of the things I like best about Pages is its flexibility. When you tap "new" to start a new document, you're presented with a lovely list of templates to get you started on your way. These include a blank document, a photo letter, a classic letter, a formal letter, a personal photo letter, a photo resume, a project proposal, term paper, visual report, syllabus, and more. Whatever you're sitting down to work on, Pages has a template that will help you get started. The templates even include a recipe card, should you want to archive your grandma's old recipes on your iPad for posterity.
The top of your screen in Pages is your formatting bar, just like with most word processors. From this bar you can easily switch fonts at any time, change the size of your font, use bold, italics, underline, and ensure that your text is aligned properly. There's a ruler with margins under the formatting bar, simple enough to drag and rearrange to make the template your own. The plus symbol allows you to add media, tables, charts, and shapes to your documents for a more personal flare. You can select an object and hit the paint brush icon to format an individual piece of your document as well.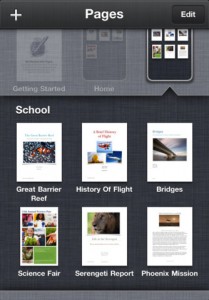 Once you're finished with your document, a tap on the wrench in the upper right brings up your Tools, including Share & Print, Find, Document Setup, and the app's basic settings – oh, and of course, the Help menu, should you need it. Share gives you the options to email your document, or (my personal favorite) save it to the iCloud so you have it anywhere, as well as Print, sharing via iWork.com, sending to iTunes, and more.
The only problem I found with the app occurred when working with my external Bluetooth keyboard. I'm used to working on a PC and using Microsoft Word when using a keyboard, so I automatically tried to use the normal keyboard shortcuts for bold, italic, underline, and strike-through – only to find out that they don't work in Pages. In fact, the only keyboard shortcuts that do work are simple cut, copy, and paste. This is an annoyance that hinders typing – I have to format those bits and pieces after I was finish with the paragraph, and hope that I remember where I wanted that emphasis to be.
Other than that, though, I find Pages to be a perfectly wonderful word processing application for the iPad.
Price: $9.99
Version discovered: 1.6.1
Requires iOS 5.1 or later
Download size: 221 MB
Related Posts