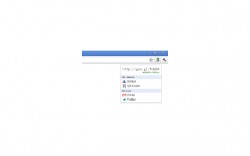 I read a lot of macro sites in my RSS feeder. I admit this. I Can Haz Cheezburger, Cute Overload, I Has A Hot Dog, Demotivational, all of those and more. And when I find something that's either too adorable or to hilarious not to share, I copy the URL and send it to each of my friends via IMs, or sometimes I just post it to Facebook if it's really good. However, some of those image URLs get incredibly long, and occasionally the copy and paste method fails and my friends end up with an odd duck line of text in their window that they can't click on, or otherwise use to complete the URL.
This is why I love Google URL Shortener.
The easy to install add on places a little "clamp" looking icon right next to your address bar. Clicking it brings up a quick context menu, showing you the Google shortened URL, and giving you the option to Copy it, or even grab a QR code for it, if you want to send it to someone that way. Clicking "Copy" automatically puts the short URL onto your clipboard, ready to be pasted wherever you want to share your link. Since installing this add on, I've found I use it all the time. The Details button will bring you to a Google Analytics page for the site so you can see what countries have accessed it recently and all sorts of interesting statistics.
I never even thought of how often I copy links until instead of clicking in the address bar and hitting ctrl + C on my keyboard, I started clicking the URL Shortener and "Copy." I must shorten a dozen or more URLs a day. And this extension makes that incredibly easy. Highly recommended for all link-aholics out there.
Price: Free
Version reviewed: 0.7.2
Requires: Chrome
Google URL Shortener on Chrome Webstore
Related Posts