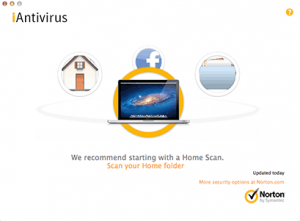 It is commonly believed that Macs are immune to viruses. This is of course not true. Macs can be very prone to catching infected files just as easily as Windows machines. This is because hackers are getting more and more interested in infecting Macs with viruses due to their rising popularity. iAntiVirus is a great antivirus application for your Mac. This application will help rid your computer of those pesky files. However, there are a couple issues with the app.
For all intends and purposes, iAntiVirus is similar to anti-virus programs for Windows. iAntiVirus will initially target the media that you use most often like iPhoto pictures and iTunes music but when scanning, you can choose to just have it scan your home folder, or have it scan your entire system. What's great is that you can change between these two options just by swiping with 2 fingers. In addition, if there are specific files that you suspect might be infected, you can just drag those files into the application and iAntiVirus will scan them. A really terrific feature of this application is that it will detect common Windows threats. This can be useful if you have documents, pictures, or music files that will be shared across multiple platforms. It will ensure that you aren't sending an infected file to a Windows user.
Of course the big question is how effective is iAntiVirus? Seeing as Macs aren't as prone to viruses as Windows, there aren't very many (if any at all) independent tests that look at the effectiveness of Mac anti-virus solutions. The good thing about iAntiVirus is that it is owned by Symantec, the same company that brings us the famous Norton Anti-Virus for Windows. We know Norton has excellent detection rates so that likely means iAntiVirus provides excellent detection rates, too.
While iAntiVirus is generally great, there is some activity going on that makes it kind of suspicious. For example, if you have Activity Monitor open while the application is scanning, you will see that it is actually writing files to your system. This is very odd seeing as virus scanners usually only have to read files, not write them. Above that, it takes an extremely long time to scan all the files on your system. I can only suspect the reason for the delay is the application is reading and writing every file it scans, which is absolutely ridiculous. iAntiVirus is also missing real-time scanning. This feature would be great if iAntiVirus had it because it would alert you the second you download a file that might be harmful as opposed to waiting for you manually scan.
Overall, iAntiVirus does its job. However, the behind-the-scenes processes make things a little sketchy. The program is by Symantec so it is likely trustworthy but I'm having trouble recommending this application to anybody because I cannot understand why it would have to write files to your computer. I don't think that iAntiVirus is trying to harm your Mac, I just think that there must be a more efficient way of scanning files. Combine that with the lack of real-time scanning and there is a good argument against this app.
Price: Free
Version reviewed: 1.1
Supported OS: OS X 10.6 or later, 64-bit processor
Download size: 101mb
Related Posts