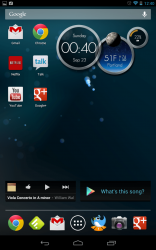 Chances are you still have your phone's default clock widget enabled. How very boring! The beauty of Android's widgets system is that you can make your homescreen look however you want, and part of that is choosing the perfect clock widget for you. Try One More Clock Widget: it's a free collection of clock-and-weather widgets that'll go great with any homescreen.
One More Clock Widget is a collection of over 60 great-looking clocks. The styles available range anywhere from a binary counter to an exact copy of the new Motorola circles widget. OMC is not all about displaying, however, and you can set various sections of the widgets to give you the forecast, or even open any app at all.
There are a lot of text-based clocks designs available on One More Clock, and included in the app is an easy to use editing tool. You can change locations and color using the built-in tool, or any property you want using a text editor.
One More Clock is a great set of widgets. Though a lot of the over 60 included widgets are variations on a simple text widget, there's still a wide range of clocks that would fit well on anyone's homescreen. If you're still rocking Samsung's boring clock widget, it's time for an upgrade–and One More Clock is a perfect first stop.
Price: Free with $0.99 upgrade

Version discovered: v1.3.5
Requires: Android 1.6+
Download size: 3.6mb
One More Clock Widget Free on Play Store
Related Posts