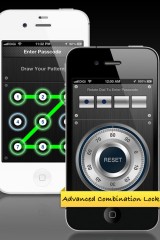 Many iPhone users are concerned about the security of their photos and/or videos. Whether it is a snooping parent, a curios young child, or you're just handing in your phone for service, any of these situations could make a user uncomfortable. Safety Photo+Video is an app that takes care of that discomfort and allows you to feel like all of your media is secure and for your eyes only.
What is it and what does it do
Main Functionality
Safety Photo+Video allows you to password protect all iPhone media of your choosing.
Pros
3 security options
Appealing user interface; 2 themes available
Compatible with both photo and video
Photos taken directly in the app

don't

safe in Camera Roll
Import from or export to camera roll
Choice to secure both app and individual albums, or only one of them
Viewing of EXIF and Geotag data
Multiple media transfer methods; WiFi, iTunes, Bluetooth
All the typical editing tools; move, copy, cut, paste, rename, etc.
Cons
Discussion
Safety Photo+Video provides password protection for all of your sensitive media. You are given three options for password protecting the app at start-up: the typical keypad lock, a dot pattern, or a standard combination lock. The user is also given the same options for password protecting individual folders. This allows the user to have twice the protection or go with either of the the options given.
The user interface of Safety Photo+Video is a shelf-like view where all the albums sit. You can create new albums or stick with the ones they give you by default. To add photos or videos to a folder, you first click on it to enter and then either choose to take a picture/video with iOS's built-in camera or import media from the iOS media library. You can input one thing at a time or use batch upload when there are multiple files you want to transfer. The most important thing to point out here is that any photo/video taken in the app will not go to your Camera Roll, which is a major feature to have if you worry about keeping all sensitive material in on place.
Safety Photo+Video also has a nice sharing feature that allows you to not only transfer your files between the iPhone and a computer through Wi-Fi or iTunes, but also between two separate devices using Bluetooth. All methods worked great when testing them. I also liked the handy slideshow feature, which provides a nice avenue to show someone a lot of pictures, but in a unique and easy way. There are also a couple themes to choose from as well.
Pretty much the only negative I could find about the app is the lack of a break-in feature. Many apps in this genre allow you to set dummy codes, or keep track of incorrect passcode entries, or even take a photo of the user after an incorrect entry. Something in that realm would be nice addition to an already solid app.
Conclusion and download link
Safety Photo+Video is a tremendous app for keeping your photos and videos private. The combination of a well-built interface and a plethora of features makes Safety Photo+Video a great buy for someone looking for privacy when it comes to their media.
Price: $1.99

Requires: iPhone/iPod Touch/iPad; iOS 4.3 and up

Download size: 12.8 MB

Related Posts