Update: TrashMail is once again free, but now it requires users to register on TrashMail.net (registration is free).

While reading through the comments of some of my other posts I saw a comment by Ozzie, a regular dotTechie, where she mentioned something about a service called TrashMail in relation to spam e-mail. I checked it out and decided the service is worth mentioning.
Remember my post on 10MinuteMail and Mailinator anti-spam services? I mentioned in there…
Usually spam is generated by signing up for forums, signing up for special offers, registering at websites, etc. If you have to enter your email somewhere, chances are better then not that you will receive some sort of spam from that website/company/entity (please note that dotTech.org will not spam you in any shape form or fashion so you do not have to be afraid of entering your real email here; however you don't have to).
To allow you to sign up for these forums, websites, etc. I then showed you 10MinuteMail and Mailinator, both which provide you with temporary/spam emails (with an inbox) you can enter at these online places. Well TrashMail is a service that serves a similar purpose but does it in a slightly different manner.
Instead of giving you a temporary/spam e-mail with an inbox, TrashMail provides you with a randomly generated temporary e-mail (you also have the option to create your own e-mail name instead of a randomly generated one) and all the e-mail sent to that temporary e-mail is forwarded to your real e-mail. Of course just hiding your e-mail behind another is not fighting spam since spam can continually forward to your real e-mail so to fight the spam TrashMail
Limits how many e-mails will be forwarded to your real e-mail before the temporary e-mail is terminated;
Limits the life span of the temporary e-mail;
Allows you to opt-in for an option CAPATCHA sender confirmation system.
For the free version of TrashMail you are limited to a choice of 1, 2, 3, 4, 5, or 10 e-mails for the number of e-mails that will be forwarded to you and a life span choice of 1, 2, 3, 4, 5, 6 days, 1, 2, 3 weeks, or 1 month. If you purchase the paid version ($5.65 a year) you have more choices including "unlimited" for both number of e-mails forwarded and life span.
So with the combination of all the above, TrashMail makes for a fairly effective anti-spam tool. To make the deal even sweeter, you are allowed to send e-mails from your temporary @trashmail.net e-mail from inside your control panel. Also, you can always change your "settings" (forward e-mail limit, life span, and CAPATCHA on/off) from the control panel. Best of all, if you are a Firefox user TrashMail has a Firefox plugin you may download.
Now remember the saying "if it is too good to be true it probably is"? It kind of applies to TrashMail. With all the perks of TrashMail there is one small kink in the system and it comes in the form of a legal disclaimer:
Remember: This is not an anonymous mail service. This service is subject to the German law of telecommunications data retention.
Now I am not particularly familiar with the "German law of telecommunications data retention" so I can't say if this disclaimer makes or breaks TrashMail. What I can say, however, is that if something in your e-mail is so important that you don't want anyone else to see, you may want to consider not using a temporary e-mail/anti-spam service for it.
Overall I feel TrashMail is yet another handy tool to help you fight dreaded spam. Before I end my post here are some screenshots for you to enjoy:
This is the short form you fill when you want to create an e-mail from their website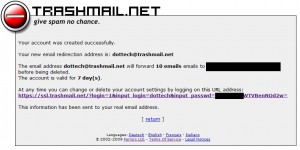 This is the confirmation page you see after you have created your e-mail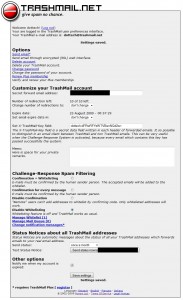 This is the "control panel" you may login to for your e-mail

This is the confirmation e-mail people who send e-mails to your @trashmail.net will receive if you enable CAPATCHA
You can visit TrashMail and download the Firefox plugin from the following link:
Click here to visit TrashMail.net
Thanks Ozzie!
Related Posts