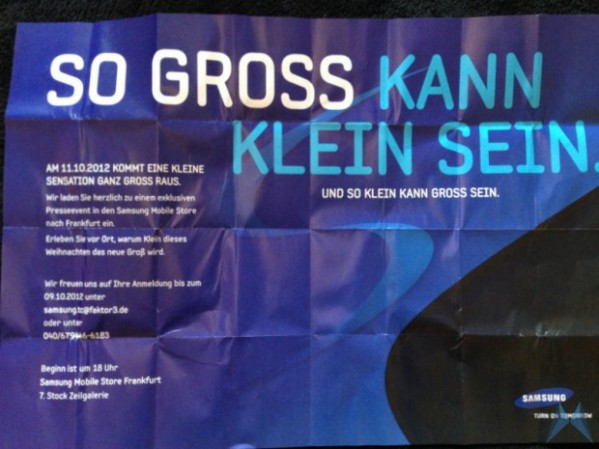 Many people love the huge 4.8-inch screen on the extremely popular Samsung Galaxy S III. However, there is still a significant group of people who think phones should not be that large, myself included. Apparently Samsung knows our pain and is going to release a 4-inch Galaxy S III Mini next week.
You see the image shown above? It is a German ad by Samsung that says "something small will be really big" and "get ready for a little sensation". Combine that with the distinct Galaxy S "s" shown in the middle of the advertisement and this is leading to speculation that Samsung will reveal the Galaxy S III Mini (which has been hitting the rumor mills since August) at an event in Germany on October 11 (this upcoming Thursday).
It isn't known exactly how this Galaxy S III Mini will differ from the Galaxy S III but it will likely have the same specs with just a smaller screen. On the other hand, Samsung may downgrade the specs a little (such as go from a quad-core Exynos to a dual-core) in order to decrease the price and potentially sell the Galaxy S III Mini as a "high-end" device at a "mid-range" price. Let's see what happens.
[via Unwired View, BGR]
Related Posts