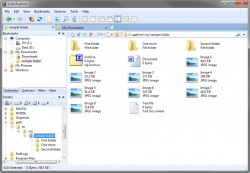 With higher capacity hard disk drives becoming a norm, the increasing number of files on a system is slowly making Windows Explorer annoying to use due to only basic functionality. Thankfully, there are a number of file managers available that are far better than Windows Explorer. CubicExplorer is one of them.
WHAT IS IT AND WHAT DOES IT DO
Main Functionality
CubicExplorer is a free and portable file manager and browser which can easily replace Windows Explorer as a preferred file browser and comes with a number of good features including the ability for tabbed browsing.
Pros
Performs a fairly fast and accurate file search
Tabbed browser
Portable
Built-in text editor compatible with Notepad
Quickview feature allows instant preview of both images and text documents needing to open the file
…and more
Cons
No help file to speak of
Does not render video files
Text editor not compatible with MS Word
Only has one pane, as opposed to the multiple panes provided by other file managers
Discussion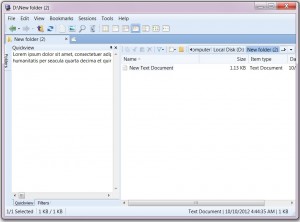 CubicExplorer is a useful program that improves on Windows Explorer and is portable, allowing you to use it wherever you go. The program comes with a number of useful features including tabbed browsing, which allows users to jump from one location to another instead of repeating their process or pressing back and forward buttons. Bread Navigation is another way one can keep track of their steps, especially when searching for folders within folder.
Another useful feature is the Quickview section that allows you to preview images or audio files without the need to open them. Quickview also makes use of the in-built text editor to display and edit the contents of a Notepad file.
While the text editor is compatible with Notepad, one would have liked it to also provide a preview of Word documents. You can open file locations that you visit regularly by using the Bookmarks dropdown menu, a feature that is similar to restoring previous sessions in internet browsers.
Conclusion and Download Link
CubicExplorer is a fairly useful program to have for those who often have to rely on Windows Explorer. However the lack of any help file explaining various features means that first time users will have to tinker around to get to know the program.
Price: Free
Version Reviewed: v0.95.1
Supported OS: Windows 2000/XP/2003/Vista/Server 2008/7
Download Size: 3.4MB (Portable)
VirusTotal Malware Scan Results: 0/43
Portability: Portable
[Thanks Eric989!]
Related Posts