So far ways to get Windows 7, official release version not Beta, for cheap have included the pre-order for $50/$100 (now expired) and the purchase of the 3 license Home Edition family pack for $150. I am about to tell you about two more ways to get Windows 7 for extremely cheap (as little as $16) or even get it for free. However take note that these deals are YMMV deals; in other words not everyone will be able to take advantage of them.
The first deal is for students (graduate or undergraduate from anywhere in the world). Everyone knows MSDN/TechNet members were recently given access to Windows 7 RTM early and for free. Well via IEEE.org membership students are now able to take advantage of MSDNAA (the academic version of MSDN) which will also give access to Windows 7 for free. You simply need to sign up via IEEE.org, pay your membership fees (the fees vary depending on where you live but for USA 1 year membership costs $32 but half an year costs $16), wait up to 8 days for your account to be setup, and download Windows 7 Professional (x86 and x64) from IEEE's MSDNAA shop for free. However take note of a couple of things:
While there are reports of Windows 7 RTM being available via MSDNAA right now I cannot confirm this since my account is still being setup. Worse comes worse you will have to wait until October 22nd (the official release date) to get it.
New members signing up

between 16 August 2009 and 28 February 2010 will automatically be processed at the full year dues rates.

New applications received between 1 March and 15 August 2010 will automatically be processed for half-year membership ending 31 December 2010 at the half-year dues rates. Exception is when the applicant specifically requests their application be processed for the full year.

You must have "50%

of a normal full-time academic program as a registered undergraduate or graduate student in a regular course of study in IEEE-designated fields

".

However the range of "IEEE-designated fields" is very broad so check it out before automatically dismissing it.

I recently signed up

(I got on to the $15 for one year membership deal that ended on August 15th… sorry I didn't post about it then)

and so far there has been no verification if I am actually a student (which I am). The most they asked me is information about my major. Maybe before my MSDNAA account is setup they may ask more I don't know but as of yet they have not. So technically speaking I guess people could lie about being a student but that is not encouraged by me or dotTech because that is very unethical.

Some colleges may offer Windows 7 for free via their computer stores. Please check your college before making any purchase.

Some colleges allow free access to MSDNAA. Please check if you can get free access before purchasing.

Via IEEE.org's MSDNAA you can download more than just Windows 7 Professional. There are tons of software available including popular Vista, XP Pro, and Visio 2007.

Each IEEE/MSDNAA account will only receive one cdkey per product. Therefore you can't continually download the software and try to sell it.
The second deal is for IT professionals and developers in the USA only. Last year (I think it was last year anyway), Microsoft ran multiple Microsoft conventions across the country. Whoever visited these conventions got a copy of Windows Vista for free. Well for Windows 7 Microsoft plans to do the same thing: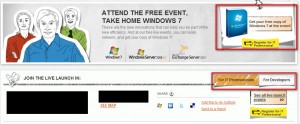 I am not 100% sure but I believe Windows 7 Professional is given out.
These conventions will be held in the following USA cities at their designated dates:

To attend one of these conventions, simply sign up via Microsoft's event website. Now this is supposed to be for IT professionals and developers but I think anyone can get in as long as you sign up. Do note however you are asked for company name (that you work for) and similar information while signing up. Also keep in mind that Windows 7 will be given out at the end of the convention so you cannot just walk in, take Windows 7, and walk out.
Hope this helps some people get Windows 7. I can't wait for my MSDNAA account to be setup so I can get mine =).

Related Posts